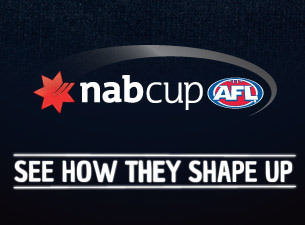 AFL
NAB Cup Tickets

NAB Cup Tickets and Event Dates
Information
2012 was tighter than any in recent history. And with so many teams in contention, anything short of centimetre perfect ain't going to cut it in 2013.

Every day, new predictions are bobbing up like corks in the ocean, but until you see the new recruits and fresh teams, nothing's certain.

The NAB Cup is your first chance to see your team's new form. So if you want to see who's shaping up and who's dropping the ball, grab a ticket today.