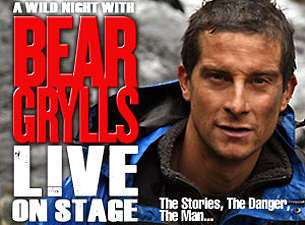 More Arts, Theatre & Comedy
Bear Grylls Tickets
Events
We're sorry, but we couldn't find any events
About
A Wild Night With

BEAR GRYLLS LIVE ON STAGE

The Stories, The Danger, The Man!

Dropping into a viper pit in Panama's Camino Reale...negotiating a piranha-infested river...battling extreme conditions in frozen Siberia... eating sheep's eyeballs...

It's all in a day's work for Bear Grylls, whose gripping tales of survival have become a television phenomenon. Prime-time TV adventure series MAN vs. WILD is one of the most watched shows on the planet, reaching viewers in more than 200 countries worldwide.

Now, for the very first time, the hero of MAN vs. WILD appears LIVE ON STAGE for an evening of wild discovery and dangerous entertainment. Join Bear Grylls as he shares his experiences of survival in some of the world's toughest environments with one of his greatest fans, comedian and broadcaster Merrick Watts (Adrian Barich in Perth).

Be inspired as Bear relives some of the great escapes and sticky situations of his life as a soldier, mountaineer and serial adventurer.

Learn about the intrepid crew behind MAN vs. WILD, and the mind-boggling logistics which go into every expedition.

See breathtaking footage of some of the world's most remote and hostile locations and find out what it is like to be parachuted in there --- from the man who did it, and survived!

It's going to be a thrilling and fun-filled evening, a chance to get up close and personal with a true one-off. So whether you're an adrenalin junkie or an armchair adventurer, don't miss this once-in-a-lifetime opportunity to be part of an intimate audience with MAN vs. WILD's very own Bear Grylls.

Suitable for all ages.