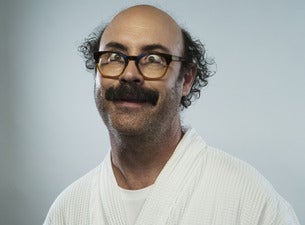 Comedy
Sam Simmons Tickets
Events
We're sorry, but we couldn't find any events
About
I am Sam, Sam I am.
I've never had a mammogram
I did not have one in a shed
I will not in a trundle bed
I did not have one on my bum
I just ate a biscuit crumb
I think I found it in my hair
How expensives childcare?
One mighty rough year = One mighty DUMB show.
NO life lessons, NO profundity and NO epiphanies.
Just one hundred percent guaranteed gelastic and frivolous escapism from the "new normal".
This shall surely be an evening of socially distant people congregating safely in a room facing forward.
Number 52 your human lamington is ready.
WINNER Comedy Award, Edinburgh Festival Fringe 2015
WINNER Most Outstanding Show, Melbourne Comedy Festival  2015
"The one thing I never realised about Simmons is that he is a phenomenally good stand-up." ★★★★★ The Scotsman