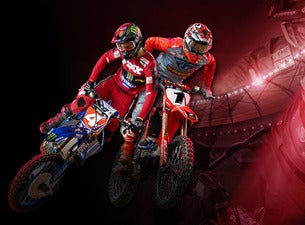 Motorsports
FOX Australian Supercross Championship Tickets
Events
26/11/22

Newcastle, NSW

McDonald Jones Stadium

FOX Australian Supercross Championship Triple Crown Newcastle

26/11/22

Newcastle, NSW

McDonald Jones Stadium

FOX Australian Supercross Championship Triple Crown Newcastle- Parking
About
The Crown Jewel of the FOX Australian Supercross Championship, round three at McDonald Jones Stadium will showcase an exhilarating Triple Crown format, and see teams battle it out in the thriving domestic series. 
In what is a thriving destination for supercross fans, the greater New South Wales region will be a buzz as the FOX Australian Supercross Championship hits the shores of Newcastle. With the summer season right around the corner, Saturday the 26th of November will come with the promise of blue skies, a coastal breeze, and insane supercross action. 
Taking place inside the comfort of McDonald Jones Stadium, fans can expect first class hospitality and services, a purpose built, world calibre supercross track, as well as a thriving pit party that's set to entertain fans of all ages, from the moment gates open until the final gate drop of the night. 
The FOX Australian Supercross Championship is a combination of live entertainment, and world class supercross racing that provides the ultimate day out for the entire family. 
Don't miss your chance, buy tickets now!