Musicals
Magic Mike Live (Australia)
Events
Loaded 20 out of 162 events
Experience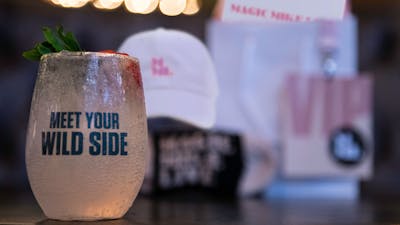 About
IT'S TIME TO FREE YOUR MAGIC, MELBOURNE
YOU CAN HAVE ANYTHING THAT YOU WANT – YOU JUST HAVE TO ASK…
 Conceived and directed by Channing Tatum, Magic Mike Live is an immersive, thrilling, live dance and acrobatic spectacular based on the hit movies.
 With a cast of incredible dancers, MAGIC MIKE LIVE is equal parts empowering, exhilarating and unexpected.
 It's hot, hilarious and the good time you have been looking for.
 IT'S TIME TO HAVE SOME FUN!
Please Note: There is a 9-minute lockout period at the beginning of the show.
Location
Getting there
216, Bus - 605, Bus - 906, Bus - 907

Catch tram 48, 70, 75 or the City Circle tram to the corner of Flinders and Exhibition Streets and walk down Batman Avenue. Catch tram 70 or bus 605 to Batman Avenue

Birrarung Marr is a short walk along the Yarra River from Flinders Street Station, Melbourne's central city train station. Cross St Kilda Road, then walk East along the river, either taking Flinders Walk or Princes Walk till your reach The Arcadia.

Note: please allow an extra 15 minutes from the CBD and Flinders Street Station due to tram track works taking place on St Kilda Road.

Paid parking is available in a variety of car park along Flinders Street and at Federation Square Car Park. There are accessible car parks located on each level of the Federation Square Car Park adjacent to Birrarung Marr. The height restriction for vehicles is 2.1 metres. Should your vehicle exceed this accessible height car park then please contact Fed Square on (03) 9655 1900 to provide an alternative arrangement.
FAQS
Magic Mike Live will tour Australia throughout 2020 and 2021. You can buy tickets via Ticketmaster.com.au.

Magic Mike Live will open in Sydney in December 2020 before touring Australia throughout 2021. Tickets are on sale now through Ticketmaster.com.au.

Prices for Magic Mike Live are subject to change but start at $75, plus booking fee. Ticket prices for Magic Mike Live vary by performance, seat location, and during peak periods such as public holidays.

Channing is the director and creator of the show and does not appear in it, but as Channing often says, he "can't wait until he's in Magic Mike shape" so he can perform in the show! He also loves to surprise audience members by turning up at shows every now and then, so do keep an eye out!

Magic Mike Live is a first-class entertainment experience based on the hit films "Magic Mike" and "Magic Mike XXL". The show features the hottest and most talented men from around the world performing in front of, behind, above and all around the audience.Magic Mike Live is a scorching 360-degree dance and acrobatic spectacular that will leave you breathless.

No.Magic Mike Live is a high-end production show in a state-of-the-art venue with some of the most talented dancers from around the world performing amazing choreography amidst over-the-top production values. It's a place where women can feel what it's like to exist in a world where their desires are heard and they are treated like goddesses…a place where they feel comfortable and proud.

Magic Mike Live guests must be at least 18 years to attend the show. Patrons will be asked to present valid photographic ID in order to be served alcohol.

Magic Mike Live Australia have created a mythical club in The Arcadia, the world's largest Spiegeltent, named after the ancient Greek Utopia. The Arcadia is a beautiful two storey, fully-customized, 600 seat venue where every detail has been meticulously curated by Channing and the Magic Mike Live creative team especially for the women of Australia. Located at Birrarung Marr, Melbourne.

ARRIVAL

Guests are encouraged to arrive at least 60 minutes prior to the start of the performance to enjoy our delicious food and beverage offerings. The show will start promptly as advertised and we recommend that you take your seat 15 minutes before the start of the show.   Please note that beverage service will also be provided in the venue throughout the performance. 

CLOAKROOM

A complimentary cloakroom is available for coats and small bags.  If you have large bags or suitcases, please arrange for them to be left elsewhere before your visit. 

SECURITY / BAG CHECK

All bags will be checked upon arrival for your safety and security.  We appreciate your patience and understanding while these checks are taking place. 

Absolutely!  A full bar with specialty cocktails and a selection of wine, prosecco and traditional cocktails will be available in The Arcadia lobby prior to the performance.  Patrons can also enjoy a mini-food hall and pay one low price to sample a variety of curated snacks and mini-meals prior to or following the show. Bottle service, champagne, cocktails and other beverages are also available throughout the show from our waitstaff.  We encourage patrons to come early and stay late to enjoy the unique indoor-outdoor atmosphere and delicious food and drink offerings. 

Magic Mike Live is 90 minutes.

Audience members are never guaranteed to be selected for the audience participation numbers, but wearing trousers certainly increases your chances of being pulled on stage for a night that you will never forget! There is no formal dress code for the show, wear whatever makes you feel comfortable, sexy and ready to have a good time!

Magic Mike Live does use strobe lighting as well as theatrical smoke throughout the performance.