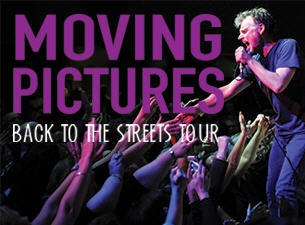 Rock and Pop
Moving Pictures Tickets
Events
We're sorry, but we couldn't find any events
About
After reuniting for a sold out tours in 2011 and 2013, the original Moving Pictures line up is back for two shows only at the Sydney Opera House.

Forming in Sydney in 1980, it didn't take long for Moving Pictures to make their mark on the local scene with a strong reputation as pub rock act with r 'n b influences; the band was in demand packing out venues night after night with legendary live sets that quickly garnered both industry and audience interest.
Their debut single, Bustin' Loose, was their first foray into the charts, but it would be the anthemic follow-up single, What About Me?, that really solidified Moving Pictures' place in Australian music history.

The single reached No. 1 in Australia, staying on the top of the ARIA Singles Chart for 6 consecutive weeks and taking out the "Best Single" Award at 1982's Countdown Awards. The track also proved popular stateside reaching No. 29 on the Billboard Singles chart and making it into Billboard's year-end Hot 100 list for 1983 at No. 88. Days of Innocence also spawned the hit Sweet Cherie and the band soon followed up this success with the album Matinee.

The sophomore album also proved popular reaching an impressive 16 on the ARIA Album chart and featuring the hits Winners and Back to the Streets. 1984 saw Moving Pictures popularity soar even higher with the track Never featuring in the cult movie "Footloose", and subsequently on the soundtrack, as the backdrop to an epic Kevin Bacon dance solo.
It's been 34 years since Moving Pictures first hit the road together and lead singer and founding member, Alex Smith, said today "We all had a blast on the 30 Years of Innocence & Bustin' Loose shows in 2011 & 2013 and can't wait to play the Studio in October!"

Moving Pictures are Alex Smith, Andy Thompson, Charlie Cole, Garry Frost, Ian Lees and Mark Meyer.