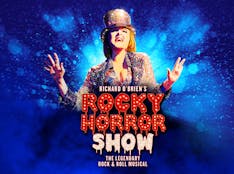 Musicals
The Rocky Horror Show Tickets
Week 1
0 Events,

Thursday, 1 February

0 Events,

Friday, 2 February

0 Events,

Saturday, 3 February

0 Events,

Sunday, 4 February
Week 2
0 Events,

Monday, 5 February

0 Events,

Tuesday, 6 February

0 Events,

Wednesday, 7 February

0 Events,

Thursday, 8 February

1 Event,

Friday, 9 February

2 Events,

Saturday, 10 February

2 Events,

Sunday, 11 February
Week 3
0 Events,

Monday, 12 February

1 Event,

Tuesday, 13 February

1 Event,

Wednesday, 14 February

1 Event,

Thursday, 15 February

1 Event,

Friday, 16 February

2 Events,

Saturday, 17 February

2 Events,

Sunday, 18 February
Week 4
0 Events,

Monday, 19 February

1 Event,

Tuesday, 20 February

1 Event,

Wednesday, 21 February

1 Event,

Thursday, 22 February

1 Event,

Friday, 23 February

2 Events,

Saturday, 24 February

2 Events,

Sunday, 25 February
Week 5
0 Events,

Monday, 26 February

0 Events,

Tuesday, 27 February

2 Events,

Wednesday, 28 February

1 Event,

Thursday, 29 February
About
Back by phenomenal demand, the iconic Rock 'N' Roll musical The Rocky Horror Show is back in 2024 starring Australian superstar Jason Donovan as Frank N Furter.
Written and created by Richard O'Brien, The Rocky Horror Show has become one of the world's favourite musicals and returns after enjoying sell out performances and rave reviews during its 2023 season of the 50th Anniversary tour, breaking box office records in Melbourne as the highest grossing show ever at the Athenaeum Theatre.
Ready to thrill you with its frothy, fun, this is the boldest bash of them all, so sharpen those stilettos for the rockiest ride of your life. Follow squeaky-clean sweethearts Brad and Janet on an adventure thev'll never forget. Bursting at the seams with timeless classics, including the Time Warp, it's a guaranteed party!
PLEASE NOTE: The Producers of The Rocky Horror Show cannot guarantee the appearance of any particular artist, which is always subject to illness and leave arrangements.
Jason Donovan will play the role of Frank N Furter except for Tue 13th, Tue 20th, 1pm Wed 28th February, and Tue 5th March. Blake Bowden will play the role of Frank N Furter for these performances.
Joel Creasey will play the role of the Narrator except for Thu 15th, Fri 16th, Tue 20th, Wed 21st, Thu 22nd February and Tues 12 to Sun 17 March.
Filming, sound recordings, and photography throughout the performance is not permitted until the final curtain call.   
FAQS
You can buy tickets to performances of The Rocky Horror Show from Ticketmaster.com.au

We know plans can change, that's why we've made it simple for you to exchange your tickets to a different date, subject to the Terms and Conditions.

Terms and Conditions can be found here.

The Rocky Horror Show is playing at Athenaeum Theatre, VIC.

The duration of the performance is 2 hours inclusive of a 20 minute interval

The recommended age requirement for The Rocky Horror Show is 12 year and older

The show contains some theatrical haze, special effects and strobe style lighting