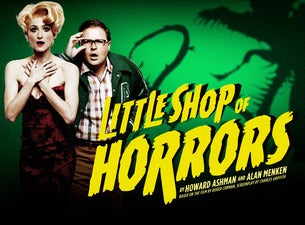 Musicals
Little Shop of Horrors Tickets
Sorry... there are currently no upcoming events.
About
A lovesick hero.
A bloodthirsty plant.
A mouthwatering musical.
There's a new breed of musical theatre star sprouting up in [city] "that needs to be seen to be believed" (Daily Review)!
Before Aladdin, Beauty and the Beast and The Little Mermaid, Howard Ashman and Alan Menken created the musical LITTLE SHOP OF HORRORS that went on to become a cult classic all over the world, winning the Drama Critics Award, Drama Desk Award and Evening Standard Award all for Best Musical, and spawning the 1986 film starring Steve Martin and Rick Moranis. Meek and mild flower shop assistant Seymour Krelborn has stumbled across a peculiar new plant species, which he names after his stunning but vulnerable colleague Audrey. The sinister plant seems like his ticket to fame and fortune, but the plant grows and grows…and GROWS! Seymour discovers that feeding his ambition starts to require juicier & juicier ingredients. Before he knows it, Seymour and Audrey must battle the perilous and persuasive plant not just for their lives, but for the very future of planet earth!
LITTLE SHOP OF HORRORS is a "flawless revival of a cult musical classic" (SMH) from the Producers and Awardwinning creative team behind the 2014 production of Sweet Charity. Joining forces with them are master puppetmakers Erth who have created "a delicious monster" (The Australian) with a new Audrey II for the 21st century. This "allsinging alldancing knockout" (The Australian) stars Brent Hill, Esther Hannaford, Tyler Coppin, Scott Johnson, Angelique Cassimatis, Josie Lane and Chloe Zuel. The score combines 1960s rock and roll with soul and includes the songs 'Feed Me', 'Suddenly Seymour' and 'Somewhere That's Green'.