Classical
Australian Chamber Orchestra
Events
Virtual Event - Virtual Event, VIC

ACO StudioCasts - Subscription & Single Film Passes

Find tickets
About
ACO StudioCasts is a season of high quality, online concert films produced by the Australian Chamber Orchestra.
In collaboration with leading directors and cinematographers, these cinematic and immersive films enhance the ACO's live performance offering with a pioneering digital experience that transcends the visual and sonic capabilities of the concert hall.
Each film is accompanied by premium content, hosted by Yumi Stynes, featuring insights from Richard Tognetti, the Orchestra and special guests. Films premiere from February to December 2021, and are available to view on-demand on smart TVs, desktop, tablet and mobile devices.
ACO StudioCast films can be purchased individually to enjoy for 7-days, or as a Full Season Subscription, giving you access to all eight films and premium content to enjoy on-demand as many times as you wish throughout 2021.
ACO StudioCasts program
The debut release in ACO StudioCasts inaugural season, Rapture and Revolution, features Richard Tognetti performing Vaughan Williams's beloved 'The Lark Ascending' alongside Beethoven's famed 'Cavatina' & 'Grosse Fuge'.
The second in the series Bach and the Beyond pitches Bach's timeless search for redemption alongside compositions by Richard Tognetti, and features a guest performance from the world's greatest living flautist Emmanuel Pahud, recorded during lockdown in Berlin, ACO violinist Satu Vänskä on vocals and Midnight Oil's Jim Moginie on guitar.
In Love and Transfiguration the Orchestra perform Latvian composer Pēteris Vasks' 'Vox amoris', written for Richard Tognetti, and Schoenberg's 'Verklärte nacht'. This is a film where love transforms from sombre hues and shadows to the warmth and radiance of new light and new day.
Tchaikovsky's Serenade celebrates composers who write music from the heart, featuring Tchaikovsky's 'Serenade for Strings', one of the most loved pieces written for string orchestra and a calling card of the ACO's, and George Walker's moving 'Lyric for Strings'.
Joy and creativity prevail in the ACO's fifth StudioCasts release, Tabula Rasa, which celebrates one of the most performed and influential living composers, Arvo Pärt, and his music as an antidote to modern times.
Schubert's Quintet features a star-studded ACO ensemble, led by Richard Tognetti, performing the composer's soulful String Quintet in C major, D.956, considered by many to be one of the best longform pieces of chamber music ever written.
November's StudioCast, Beethoven & Bridgetower, explores two musical soulmates and the reclaiming of a masterpiece. Featuring Beethoven's mighty 'Kreutzer' Violin Sonata and Janáček's String Quartet No.1 'Kreutzer Sonata', this program can't help but positively pulsate with dramatic feeling.
In the final StudioCast of the 2021 season, Baroque Revelry, the ACO are joined by Belvoir St Theatre for a sordid musical romp through Europe, featuring music by Heinrich Biber, = the trailblazer Barbara Strozzi, storyteller Francesca Caccini, and the devilish Tartini.
ACO StudioCast premiere dates
·        Rapture & Revolution: 17 February 2021 8pm AEST
·        Bach and the Beyond: 31 March 2021 8pm AEST
·        Love & Transfiguration: 19 May 2021 8pm AEST
·        Tchaikovsky's Serenade: 7 July 2021 8pm AEST
·        Tabula Rasa: 18 August 2021 8pm AEST
·        Schubert's Quintet: 15 September 2021 8pm AEST
·        Beethoven & Bridgetower: 3 November 2021 8pm AEST
·        Baroque Revelry: 1 December 2021 8pm AEST
All ACO StudioCast films will be available to view on-demand immediately following their premiere.
News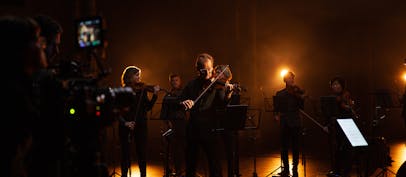 Australian Chamber Orchestra launches online concert series
Bring the orchestra into your home!