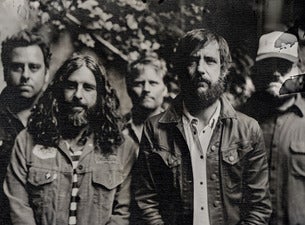 Alternative Rock
Band of Horses Tickets
Events
We're sorry, but we couldn't find any events
About
BAND OF HORSES: MELBOURNE HEADLINE PERFORMANCE THIS JULY

Having declared their return to Australia this July for Splendour In The Grass, Band Of Horses are proud to announce a headline performance at Melbourne's Forum Theatre on Sunday 24th July. For access to exclusive pre-sale tickets from Fri 29th April, 9am, sign up to the Handsome Tours mailing list at handsometours.com

Don't miss Band Of Horses performing all new songs and beloved classics in Australia this July!

Band Of Horses | Melbourne
Sun 24 July, 2016
The Forum Theatre

Sign up to Handsome Tours' newsletter at handsometours.com
An exclusive pre-sale link will be sent to your e-mail this Fri 29th April at 8:30AM.
General onsale from Mon 2nd May.

BAND OF HORSES: WHY ARE YOU OK NEW ALBUM OUT IN JUNE ON INTERSCOPE/UNIVERSAL MUSIC AUSTRALIA

In the past, Band of Horses founder and leader Ben Bridwell would literally run away from home to write: Holing up in a secluded cabin or other such remote location, emerging months later with new songs for his band to flesh out and fully animate. This time-whether by happenstance or conscious need for a drastic change-Ben stayed home to write. In the estrogen-charged atmosphere of a home shared with his wife and four-yes, four--daughters he allowed his everyday experiences to inform his process. Between dropping off and picking up the girls, changing diapers, and playing dress up, Bridwell spent every precious free minute-often the wee hours on the morning into daybreak--in his garage writing.

While Bridwell and his bandmates – Tyler Ramsey, Ryan Monroe, Creighton Barrett and Bill Reynolds-convened in South Carolina alongside producer Jason Lytle (Grandaddy), Bridwell struggled to bring the new material into focus. One day, at a particularly crucial part of the recording process Ben's phone rang. It was Rick Rubin-who'd randomly heard a Band of Horses song on the radio during a drive, and had been moved to pull over and call. Without going into details, Bridwell can't stress the value of this phone call enough. It was exactly the final push that his songs needed on their journey from conception to being sent out into the world.

The result is Band of Horses' fifth studio album, Why Are You OK, a record informed by experience and at the same time retaining the vulnerability that birthed their greatest songs. Creating capsule worlds populated by the strange but true cast of characters from Bridwell's hometown Charleston, SC, Why Are You OK's songs combined universal sentiments with Bridwell's patented knack for storytelling-all wrapped in the lush melodic textures that have long been the bedrock of Band of Horses' signature sound.

Why Are You OK is set for release in June via Interscope Records/Universal Music Australia. The album was produced by Jason Lytle, Executive Produced by Rick Rubin and mixed by Dave Fridmann.

Last night, the band asked their favorite Twitter follower, Fuck (@7Adrewg), to premiere the karaoke style lyric video for the first single "Casual Party". You can now view it HERE.

Mr. Fuck had caught the band's attention not only by his surname, but also because he'd been tweeting compliments at the band upon the unveiling of the new album art. After further investigation, it was discovered that he was indeed a longtime fan, and the band felt he deserved the first look and listen. "Casual Party" is now available for purchase through iTunes, Amazon and Google Play or for streaming on Apple Music and Spotify. Pre-order Why Are You OK Vinyl & limited edition bundles directly from the band here - all pre-orders will receive early access to tickets!