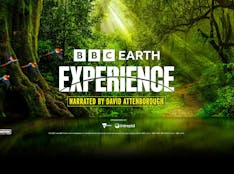 Museums and Exhibits
BBC Earth Experience Tickets
Australia
11/12/23

Melbourne, VIC

Melbourne Convention and Exhibition Centre

BBC Earth Experience

11/12/23

Melbourne, VIC

Melbourne Convention and Exhibition Centre

BBC Earth Experience - Relaxed Session

12/12/23

Melbourne, VIC

Melbourne Convention and Exhibition Centre

BBC Earth Experience

13/12/23

Melbourne, VIC

Melbourne Convention and Exhibition Centre

BBC Earth Experience

14/12/23

Melbourne, VIC

Melbourne Convention and Exhibition Centre

BBC Earth Experience

15/12/23

Melbourne, VIC

Melbourne Convention and Exhibition Centre

BBC Earth Experience

16/12/23

Melbourne, VIC

Melbourne Convention and Exhibition Centre

BBC Earth Experience

17/12/23

Melbourne, VIC

Melbourne Convention and Exhibition Centre

BBC Earth Experience

18/12/23

Melbourne, VIC

Melbourne Convention and Exhibition Centre

BBC Earth Experience

18/12/23

Melbourne, VIC

Melbourne Convention and Exhibition Centre

BBC Earth Experience - Parents and Prams Session

19/12/23

Melbourne, VIC

Melbourne Convention and Exhibition Centre

BBC Earth Experience

20/12/23

Melbourne, VIC

Melbourne Convention and Exhibition Centre

BBC Earth Experience

21/12/23

Melbourne, VIC

Melbourne Convention and Exhibition Centre

BBC Earth Experience

22/12/23

Melbourne, VIC

Melbourne Convention and Exhibition Centre

BBC Earth Experience

23/12/23

Melbourne, VIC

Melbourne Convention and Exhibition Centre

BBC Earth Experience

26/12/23

Melbourne, VIC

Melbourne Convention and Exhibition Centre

BBC Earth Experience

30/12/23

Melbourne, VIC

Melbourne Convention and Exhibition Centre

BBC Earth Experience

31/12/23

Melbourne, VIC

Melbourne Convention and Exhibition Centre

BBC Earth Experience

1/1/24

Melbourne, VIC

Melbourne Convention and Exhibition Centre

BBC Earth Experience

1/1/24

Melbourne, VIC

Melbourne Convention and Exhibition Centre

BBC Earth Experience - Parents and Prams Session
About
BBC Earth Experience - Exclusive to Melbourne
Travel the natural world and journey across the seven continents in one epic experience narrated by David Attenborough.
This immersive exhibition brings together state of the art audio visual technology and breathtaking footage from BBC Studios Seven Worlds, One Planet on an unrivalled scale.
From fireflies putting on a spectacular light show in North America, to snub nosed monkeys huddling together to stay warm in Asia, and cassowary fathers protecting their tiny chicks in Australia, visitors will get to experience our seven continents in all their glory, like never before.
The BBC EARTH EXPERIENCE is not to be missed.
Location
Maps
FAQS
Unfortunately, we do not permit pushchairs inside the experience. However, we do offer a dedicated buggy park where you can securely store your buggy which you enjoy the experience.

Tickets are on sale to the general public at 1pm (AEST) on Thursday 7 September 2023.

The experience takes around 1 hour however you are welcome to stay as long as you like to explore.