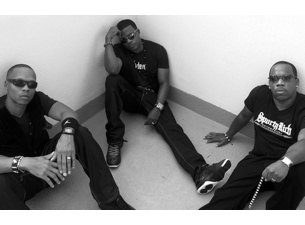 Rap and Hip-Hop
Bell Biv Devoe Tickets
Events
We're sorry, but we couldn't find any events
About
BELL BIV DEVOE + GINUWINE TOUR AUSTRALIA & NEW ZEALAND FOR THE FIRST TIME

Loyal fans, the long wait is finally over! Illusive and The Frontier Touring Company
are happy to announce that American R&B legends BELL BIV DEVOE and
GINUWINE are heading to Australia and New Zealand in May 2012 for the very first
time.
After their days in New Edition came to an end with the departure of lead singer
Bobby Brown in 1986, members Ricky Bell, Michael Bivins, and Ronnie DeVoe
carried on to form Bell Biv DeVoe. The results were funkier, the lyrics and vocals
were sexier, and the overall sound was taken to a whole new level.
Their debut album, 1990's Poison produced the title track hit as well as the equally
successful 'Do Me!'. The album itself went on to sell over three million copies and is
considered a '90s R&B classic.
Follow-up LP, 'Hootie Mack', featured the enormous single 'Gangsta' and solidified
them as one of the most important acts in the new jack swing movement.
Bell Biv DeVoe are joined by American R&B superstar Ginuwine, who is perhaps
best known for his epic smash hit 'Pony', without a doubt one of the biggest songs to
emerge from the genre, and his remarkable cover of 'When Doves Cry' produced by
Timbaland from the 1997 debut album Ginuwine...The Bachelor.
Crowned 'one of R&B's brightest stars' by NME and with seven albums to his name,
Ginuwine has since established himself as a mainstay in the R&B world, including
notable collaborations with Missy Elliott and Timbaland, and with Diddy on his #1
single 'I Need a Girl (Part II)'.
To the delight of his admirers, 2011 saw the return of the smooth vocalist with his
new album Elgin (out now through Universal), in which the Boston Herald noted
"Ginuwine's voice retains an emotive, almost haunting, quality and frequently shines."
The double-bill features two R&B icons on Australian and New Zealand shores for
the first time, the crème de la crème of classic R&B united in a tour over 20 years in
the making. These shows are sure to sellout in a heartbeat - get your tickets quickly!