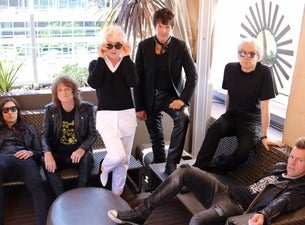 Rock and Pop
Blondie Tickets
Sorry... there are currently no upcoming events.
About
JOIN FOR 2017 AUSTRALIAN TOUR!
Indoor shows & a day on the green  

They're two of music's most iconic artists, the wondrous BLONDIE and the bewitching CYNDI LAUPER.  

In a world first, these two amazing artists are teaming up to co-headline an absolute cracker of an Australian tour in April 2017.  

Cyndi Lauper and Blondie will play a day on the green winery shows nationally and, in conjunction with Frontier Touring, arena shows in Melbourne and Sydney. As co-headliners, the bands will alternate in closing the shows.

With both artists greatly loved by Australian fans, the tour is certainly one to savour!

"Blondie were the true trailblazers of the New York City new wave and punk scenes," Cyndi Lauper says.  "As a young artist, they had such a big impact on me.  I just thought that Debbie was so cool.  She is still a hero of mine.  I'm so excited to do this tour of Australia with them.  We are going to have a blast!"
"You can't miss this show. The bitches are coming back to make it happen in Australia just like they do it everywhere.  All the songs and music you want to hear from us and much much more.... We're looking to have the best tour in OZ ever!" says Debbie Harry.

Cyndi Lauper and Blondie have both enjoyed great success here for four decades, fuelled by a stream of timeless hits that are still popular today. Both Cyndi and Debbie Harry have always escaped the usual clichés of women in rock and are unquestionably two of the most important and influential women to have graced the stage.  The two New York natives are thrilled to be touring together.

The a day on the green shows will boast an equally impressive undercard with The Clouds reforming especially for the tour and exciting new talents Montaigne and Alex Lahey.

BLONDIE emerged from the late 70's New York punk scene and quickly became music, style and pop culture icons selling more than 40 million albums worldwide and becoming Rock 'N' Roll Hall of Fame inductees. They scored hits with reggae, rock/disco, hip hop and pop songs bursting with great hooks and brilliant, ironic lyrics. 'Heart Of Glass' was Blondie's first US #1 in 1978 opening the floodgates to a run of 14 Top Ten US hits including 'The Tide Is High', 'Call Me', 'Rapture', 'Picture This', 'Rip her To Shreds', 'Hanging On The Telephone', 'Union City Blues' and 'Atomic', racking up a phenomenal five US and five UK number one singles.

Fans will be thrilled to learn that Blondie – including founding members Debbie Harry, guitarist/song-writing partner Chris Stein and drummer Clem Burke, along with the rest of the band have just completed a new as yet untitled album to be released in March 2017.

Thirty-three years and fifty million album sales since her debut, the ever-versatile CYNDI LAUPER, one of only 20 people to earn Emmy, Grammy, and Tony awards, shows no sign of slowing down.  Her celebrated musical journey took an unexpected southern turn on her acclaimed 11th studio album 'Detour' released in May this year, where the Cyndi puts her signature spin on a dozen classic country songs.  On 'Detour' the unpredictable siren proves once again that her magnificent voice can bring to life any genre of music.

Australian fans have of course loved Cyndi since her 1983 debut solo album 'She's So Unusual' and its hits 'Girls Just Wanna Have Fun', 'Time After Time', 'She Bop' and 'All Through The Night'.  Just a few weeks ago, she was in Melbourne to attend the opening night of a project dear to her heart, the extraordinary musical 'Kinky Boots', for which she wrote the music.   

a day on the green show audiences are also in for a treat with The Clouds, Montaigne and Alex Lahey.