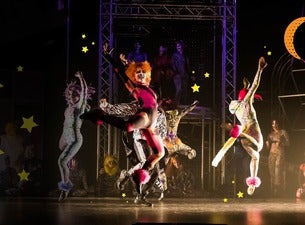 Musicals
CATS The Musical Tickets
Events
We're sorry, but we couldn't find any events
About
The classic musical, reimagined into an extravaganza of modern musical theatre, with awe-inspiring choreography and FUN for all ages!
From the producers of 'We Will Rock You', 'Jesus Christ Superstar' and 'The Diments' comes the next biggest production to hit WA – Andrew Lloyd Webber's classic 'CATS'… but not as you know it. 
Gone are the leotards and leg warmers, but the tale remains the same. Based on the universally popular poetry of T.S. Eliot, CATS tells the story of the annual gathering of Jellicle cats at which time one special cat is selected to ascend to the Heaviside layer. 
A true musical theatre phenomenon, CATS has enjoyed successful runs at iconic venues such as Broadway's Winter Garden and England's New Long Theatre, with the classic tunes like 'Memory', 'Skimblshanks the Railway Cat', 'Macavity' and 'Mr. Mistoffolees' loved by young and old. 
Join Grizabella, Gus the Theatre Cat, the Rum Tum Tugger and more in a reimagined, larger than life, contemporary take on the much-loved classic. 
Starring an all-star cast of West Australian talent:
Paula Parore & Clay Darius (We Will Rock You, The Voice Australia)
Dean Misdale (We Will Rock You, The Diments, 7's All Together Now)
featuring 
Mikey Keith as 'Rum Tum Tugger'  
"It's a musical that transports the audience into a complete fantasy world that could only exist in the theatre and yet rarely does. CATS believes in purely theatrical magic, and on that faith it unquestionably delivers." - Frank Rich The New York Times