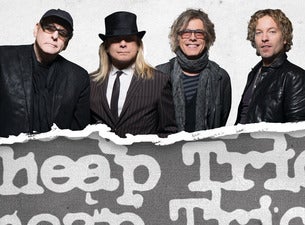 Rock and Pop
Cheap Trick Tickets
Australia
24/2/24

Port Macquarie, NSW

Port Macquarie - Westport Park

Red Hot Summer Tour 2024 - Suzi Quatro, Cheap Trick & more

25/2/24

Southport, QLD

Broadwater Parklands

Red Hot Summer Tour 2024 - Suzi Quatro, Cheap Trick & more

2/3/24

Berry, NSW

Berry Showgrounds

Red Hot Summer Tour 2024 - Suzi Quatro, Cheap Trick & more

3/3/24

Bella Vista , NSW

Bella Vista Farm

Red Hot Summer Tour 2024 - Suzi Quatro, Cheap Trick & more

9/3/24

Toowoomba, QLD

Toowoomba - Queens Park

Red Hot Summer Tour 2024 - Suzi Quatro, Cheap Trick & more

10/3/24

Sandstone Point, QLD

Sandstone Point Hotel

Red Hot Summer Tour 2024 - Suzi Quatro, Cheap Trick & more

16/3/24

Newington, VIC

Victoria Park - Newington

Red Hot Summer Tour 2024 - Suzi Quatro, Cheap Trick & more

17/3/24

Coldstream, VIC

Rochford Wines

Red Hot Summer Tour 2024 - Suzi Quatro, Cheap Trick & more

20/3/24

Fremantle, WA

Fremantle Prison

Suzi Quatro, Cheap Trick and The Angels

21/3/24

Fremantle, WA

Fremantle Prison

Suzi Quatro, Cheap Trick and The Angels

23/3/24

Seppeltsfield, SA

Seppeltsfield Barossa

Red Hot Summer Tour 2024 - Suzi Quatro, Cheap Trick & more
About
One of the most influential rock groups of the past fifty years, and propelled by genre-defying global smash hits like 'I Want You To Want Me', 'Dream Police', 'Surrender', 'The Flame' and more, Cheap Trick has sold in excess of 20 million records worldwide. 
Since exploding onto the music scene in the mid-1970's they've been blending elements of pop, punk and even metal to create soundscapes that are immediately recognisable. Consistent touring over the past five decades - notching up more than 5,000 shows, appearances on 29 movie soundtracks plus 40 gold and platinum recording awards has seen them become one of the top and most prolific rock bands of all time.  
Fronted by the dynamic Robin Zander, and comprising founding bassist Tom Petersson, famed for his 12-string bass, with Rick Nielsen on guitar and his son Daxx Nielsen on drums, Cheap Trick are a vibrant on-stage force like no other. 
The quintessential rock band, Cheap Trick have set stages alight right across the world, joining the likes of Pearl Jam, Aerosmith, Peter Frampton and more in front of jam-packed rooms and continuing to sell out shows from California to London and Glasgow. As Paste Magazine suggests, "they're not going anywhere, so you might as well start listening". 
Lauded  Australian rock outfit,  DALLAS  CRANE, will join CHEAP  TRICK on their East Coast headline dates this October.  Forming a dream double-header line-up,  Dallas Crane will warm audiences for the  US  Rock  &  Roll Hall of Famers.
Since their formation in  1996,  Dallas  Crane have become a staple of Australian rock music culture.  Across  five iconic studio albums,  Dallas  Crane have produced a  slew  of hits including,  'Sit  On  My  Knee'  with  Jimmy  Barnes,  'Dirty  Hearts',  'I'm  Sorry  Darling',  'Lovers  &  Sinners'  and many more.  
Renowned  for their wildly energetic performances and gripping stage presence,  Dallas Crane are true road warriors, earning the title of 'Australia 's hardest working band' over many years of touring.  You  Am  I's  Tim Rogers famously acknowledged them as his favorite live band, immortalizing them in the song,  'Who  Put  The  Devil  In  You?'.  The veteran rockers are no strangers to the world 's biggest stages, having played alongside the likes of  The  Who,  Cold  Chisel,  Midnight Oil and Nick  Cave  &  The  Bad Seeds to name a few.