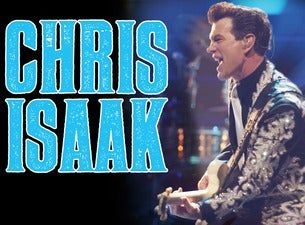 Rock and Pop
Chris Isaak Tickets
Events
We're sorry, but we couldn't find any events
About
Roundhouse Entertainment and Mellen Events are delighted to announce that Grammy-nominated Californian crooner Chris Isaak has added an additional a day on the green concert to his April tour. 
Isaak will play his only Perth show at Kings Park and Botanic Garden on Sunday April 17 with special guests will be Richard Clapton and Thirsty Merc.
Frontier Touring and Roundhouse Entertainment are delighted to confirm that Grammy-nominated Californian crooner Chris Isaak will be touring the country next April, for indoor shows in Sydney and Melbourne as well as taking to the a day on the green stage for the first time since 2006. 
For his a day on the green events, Isaak will be joined by James Reyne, Richard Clapton and Thirsty Merc. 
Isaak's love affair with Australia is no secret; he is currently a judge on The X Factor Australia, boasts an unparalleled eleven ARIA top twenty albums across his 30-year career, and has sold upwards of a million albums in Australia alone. 
Three of his albums – Forever Blue, Wicked Game and The Best Of – boast Australian sales of over triple platinum accreditation, and latest release First Comes The Night (out now via Universal Music) is set to follow, debuting at #2 on the ARIA Album Chart a few weeks ago.
The twelve-track release is Isaak's thirteenth studio album, mostly written and recorded in Nashville at the recommendation of long-time friend Stevie Nicks, and is his first album of original songs in six years. 
Writing in the city that shaped the careers of some of his earliest influences, including Elvis Presley, Roy Orbison and The Everly Brothers, produced an album filled with Isaak's signature soul, emotion and enduring sound. 
Audiences will be treated to an inspired performance of tracks from First Comes The Night as well as long running hits like 'Wicked Game', 'Forever Blue', 'Baby Did A Bad Bad Thing' and 'Somebody's Crying', all injected with Isaak's sly sense of humour and raw charisma. 
In addition to his musical achievements, Isaak has appeared in several films and television shows, having starred in Showtime's The Chris Isaak Show and The Chris Isaak Hour on the Biography Channel and most recently appearing in Hot In Cleveland. 
Isaak has never missed a show in his three-decade long career and his relentless touring schedule has earned him the reputation as one of the funniest and most enigmatic live performers in the industry.  
Isaak performed five a day on the green concerts in 2006, in one of the most popular tours the event has seen.  
Joining Isaak at all shows will be local legend James Reyne. For more than three decades, Reyne's songs have been the sound of the Australian summer, selling in excess of 2 million albums in the process.    Lucky audiences will be treated to hits including 'Reckless', 'Boys Light
Up' and 'Motor's Too Fast' together for the first time on his forthcoming album "All The Hits – Live" (out November 27 via Liberation Music). 
Richard Clapton has endeared himself to music-lovers everywhere through his heartfelt inspired performances and a songbook that defines our times.  With hits like 'Girls On The Avenue', 'Deep Water', 'Capricorn Dancer' and 'I Am An Island', the ARIA Hall of Famer is a stellar addition to the line-up. 
Thirsty Merc released their first album of new material in five years "Shifting Gears" in September, utilising the crowd funding platform PledgeMusic.  With the new songs being well received by fans and their classic radio staples '20 Good Reasons', 'Someday Someday' and 'In The Summertime', Thirsty Merc are back on the road. 
Chris Isaak, James Reyne, Richard Clapton and Thirsty Merc  – don't miss it!