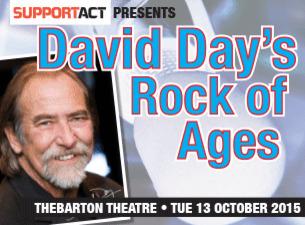 Rock and Pop
David Day's Rock of Ages Tickets
Events
We're sorry, but we couldn't find any events
About
Australians are renowned for banding together and helping a mate in need.  We dig deep, we work together and we help in any way we can.

Adelaide radio and TV legend David 'Daisy' Day was a mate to rock n roll royalty across Australia.  He helped shape their careers – he was an advocate for Aussie music and right till his death earlier this year, he unselfishly and tirelessly helped and supported the music industry and those who relied on it to earn a living.

On Tuesday October 13 at Thebby Theatre – a who's who of the Adelaide and Australian Music Industry – basically Daisy's mates, will band together on stage in an unforgettable night of music and mateship to say thank you and to help his family.    Those unable to make it will show their support by donating items to a silent auction to be held on the night. 

With acts including The Angels, Glenn Shorrock (performing with The Twilights for the second time in 12 years), Russell Morris, Brian Cadd, John Schumann, Swanee and The Masters Apprentices plus countless others, this event will be sure to see many of those legendary 'moments in rock' history created.

This will be one hell of a show with some unforgettable moments.  It's these types of gigs that create those special 'I was there' memories that go down in history.  When you have so many musos in the venue – when the great songs turn to great jam sessions and sing-a-longs.  

David Day is one of Adelaide's best loved and larger than life personalities.  His decades spent on local radio and TV saw him enter the homes of most people across town at some stage.  His smooth voice regaling the great stories, that twinkle in his eye and deep laugh with a touch of naughtiness made everyone feel like he was 'their mate Daisy'

Such was his devotion to the local music industry and those who relied upon it to survive, that even as his own health was failing badly and he was unable to work, Daisy co-founded the SA Music Hall of Fame, started the local chapter of Support Act and ran regular fundraising functions to help others.  

Proceeds from this show are going to Daisy's family

The full line up is
THE ANGELS                                                    MASTERS APPRENTICES 1965                      BRIAN CADD                                                    VINCE CONTARINO (ZEP BOYS)
BEV HARRELL                                                  RUSSELL MORRIS
JOHN SCHUMANN                                         GLENN SHORROCK          
SWANEE                                                           THE TWILIGHTS
WITH AN ALL STAR 15 PIECE BAND LED BY ROB PIPPAN

MC'S                     JOHN PEMBERTON, ANDREW PETERS, STEVE WHITTHAM.