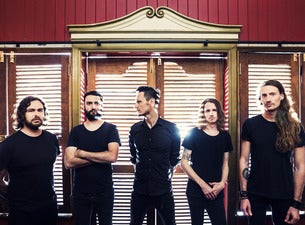 Alternative Rock
Dead Letter Circus Tickets
Events
We're sorry, but we couldn't find any events
About
Dead Letter Circus announce 'Aesthesis' Australian Album Tour October
"'Aesthesis' is not only the title of Dead Letter Circus' 3rd album, it's the only way to describe the experience of being at a Dead Letter Circus show. To be present at a Dead Letter Circus show amongst the swirling, pumping sounds of the 5-piece juggernaut of Australian Rock and the swell of the crowd is not to be missed."
Dead Letter Circus are announcing their national album tour today this October, presented by triple j, UNFD, New World Artists and Macro Music. Playing their way across the country in some of their favourite venues, DLC will be showcasing tracks from 'Aesthesis' as well as fan favourites from their 100,000+ selling catalogue spanning the last decade. They are also bringing their good friends from the USA, 10 Years on the string of shows from Melbourne onwards. 10 Years have been touring the United States recently with Breaking Benjamin and Nonpoint.
'Aesthesis' was given life in early 2015 by the band with Matt Bartlem (Jarryd James, Matt Corby) and Forrester Savell (Helmet, The Occupants) and mixed by multiple Grammy Award winner Chris Lord-Alge. (Muse, Deftones, Green Day, Slipknot, My Chemical Romance). The album is released on August 14 in Australia and New Zealand.
The album tour encompasses Western Australia, South Australia, Victoria, Tasmania, New South Wales and Queensland and takes in iconic venues such as The Forum in Melbourne, The Triffid in Brisbane, The Roundhouse in Sydney, Metropolis Fremantle and The Gov in Adelaide as well as regional shows in most states.
Fans who have signed up to Dead Letter Circus' email list will be granted early access to purchase tickets for the tour on Wednesday August 19 and will open up to the public on Thursday August 19 at deadlettercircus.com.
'While You Wait', the first taste of 'Aesthesis' was immediately embraced by both fans and triple j, taking over the station for two weeks running in early June as the most played track as well as added to rock radio playlists around the country. The second taste of the album 'In Plain Sight' was also added to rotation on triple j and continues to gather support in the lead up to the album's launch.  New Zealand's "The Rock" Radio station added 'While You Wait' & more recently ' In Plain Sight' in preparation for their recent trip to the land of the long white cloud with home grown heroes I Am Giant.