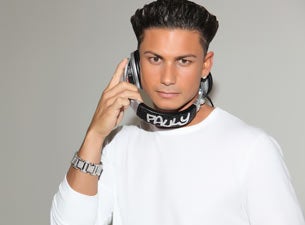 Dance/Electronic
DJ Pauly D Tickets
Events
We're sorry, but we couldn't find any events
About
"Yeahhh buddy !!!" here is the summer tour that you have all been waiting for. Reality star DJ
Pauly D from MTV's "Jersey Shore" and "The Pauly D Project", hits Australia fist pumping and
djing his way around the country.

25 January. Festival Hall. Melbourne. (Licensed all ages) - www.ticketmaster.com.au

Pre-Sale ticket Date commences Wednesday 21 November

While General Public tickets go on-sale Friday 23 November

"I am so excited to be going to Australia for the first time, I can't wait to DJ there and get the party
started! Yeahhh buddy!" DJ PaulyD

-------------------------------------------------------------------------------

You would have to be living under a rock not know have heard of Pauly D.
Born in Providence, R.I., Paul "DJ Pauly" DelVecchio is recognized for his musical talent as
well as his reality star status on MTV's highest rated show, "Jersey Shore" which premiered in
December 2009. Quickly a fan favorite, MTV announced Pauly as the first cast member
to receive his own spinoff "The Pauly D Project", which chronicles his life as a celebrity DJ.
Its been a meteoritic raise to fame, in 2010, he released his first single with Universal Republic
Records entitled, "Beat Dat Beat", which quickly climbed the charts, further establishing his place
in pop culture. On August 7, 2011 Pauly won "Choice TV: Male Reality/Variety Star" at
the Teen Choice Awards after being nominated for the second year in a row. This powerhouse
DJ has been honored as one of US Weekly's hottest bodies and came in close second to Vin
Diesel in People Magazine's "Sexiest Man Alive On Facebook" contest. Cosmopolitan
Magazine chose him to launch their first iPad application.

In December 2011, rapper and mogul 50 Cent signed Pauly to his record label, G-Note records,
to release new material showcasing Pauly's true craft. It was also announced in January
2012, Pauly will be working together with 50 Cent and SMS Audio to develop a full line of
headphones. Pauly has also spent the past year working on a Miracle Whip commercial,
his own mobile application with MEDL Mobile, an exclusive line of Tanning Lotions and Sunless
Products with Devoted Creations and a partnership in the Dirty Couture clothing line.
However beyond the reality shows, GTL's and Fist Pumps, its music and Djing that have taken
first place in Pauly's life. Having spent years honing his skills to fine art, his eclectic
track selection, unique style and infectious personality captivate crowds around the
globe. Pauly is now one of the most sought after DJs in the world - having been voted the #8
Best DJ in America in 2010 and was nominated again in 2011. Pauly was also named one
of VIBE Magazine's "Top 6 DJs Who Rocked 2011". But his notoriety did not come overnight. At
the age of 16, long before his "Jersey Shore" fame, Pauly started as a DJ and that is where his
passion remains. His music library spans nearly every genre of club music and he has
the exceptional ability to mix in and out of top 40 and house music, introducing an entirely new
demographic to quality dance music. In Summer 2011, Pauly joined the iconic Britney
Spears on select dates of her Femme Fatale Tour, alongside Britney and Nicki Minaj. While
in September 2011 he DJ'ed for the iHeartRadio Music Festival alongside some of the biggest
names in the music industry. Acts included: Lady Gaga, Jennifer Lopez, The Black Eyed Peas,
and Alicia Keys, to name a few.

It was only a matter of time till Pauly migrated to the new dance music meca that is Las Vegas,
with The Palms Casino Resort announcing that he will be an exclusive resident DJ for Moon,
Rain, and the Palms Pool solidifying his spot amongst the elite group of artists that have had
residencies with the Palms. His reputation as a major force in dance music and EDM was
further boasted when in August 2012, Pauly ranked No. 7 spot on FORBES' first-ever topearning
DJs list pulling in cool $11 Million. But music will always be Pauly's first love, last year
alone he rocked 132 shows world wide – and an impressive feat which equals a show every 3
days.

A firm believer in paying it forward, Pauly also supports many charitable causes, working closely
with The Rhode Island Chapter of St. Jude Children's Research Hospital, and has
worked with many great organizations such as The Boomer Esiason Foundation, Make-AWish
Foundation, GLAAD, GLSEN, and DoSomething.org.