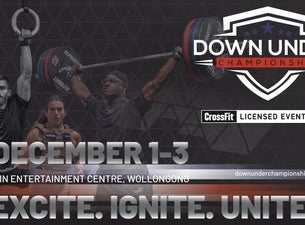 More Sports
Down Under Championship Tickets
Sorry... there are currently no upcoming events.
About
The Down Under Championship returns with a BANG! As Australia's Premier CrossFit®️ Licensed Event, the DUC23 is set to be a thrilling spectacle, featuring over 380 athletes from Australia, New Zealand, and around the globe.
Steeped in the rich history of Oceanic CrossFit®️, the heart of the competition beats once again at the WIN Entertainment Centre. Join us for three days of intense competition, as we honour the sport's legacy and challenge the new generation of athletes with their extraordinary physical prowess. Don't miss out on this showcase of incredible talent and relentless determination!