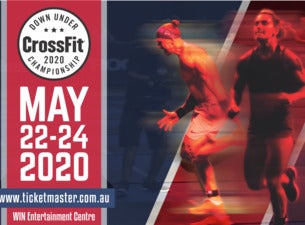 More Sports
Down Under CrossFit Championship Tickets
Events
We're sorry, but we couldn't find any events
About
Friday 22nd May 2020 – 2:30pm – 9:00pm 
Saturday 23rd May 2020 – 9:00am – 6:15pm 
Sunday 24th May 2020 – 9:00am – 5:45pm 
CrossFit is returning to the iconic shores of Wollongong, Australia with the Down Under CrossFit Championship taking place on the 22nd, 23rd and 24th of May 2020.
An official sanctioned event by CrossFit where International and National athletes come together to showcase their skills across all modalities of fitness in a bid to prove who is the fittest on earth. 
Ticket holders will have access to a family-friendly area with multiple viewing options, specialty catering, exclusive shopping, taste testing of pre and post-workout drinks and snacks, use of the latest recovery aids, an onsite community gym and an interactive workshop so you can test your own strength and fitness.