Events
03/06/2022

Southbank , VIC

The Palms at Crown Melbourne

Dracula's: The Resurrection Tour

04/06/2022

Southbank , VIC

The Palms at Crown Melbourne

Dracula's: The Resurrection Tour

04/06/2022

Southbank , VIC

The Palms at Crown Melbourne

Dracula's: The Resurrection Tour

05/06/2022

Southbank , VIC

The Palms at Crown Melbourne

Dracula's: The Resurrection Tour

10/06/2022

Southbank , VIC

The Palms at Crown Melbourne

Dracula's: The Resurrection Tour

11/06/2022

Southbank , VIC

The Palms at Crown Melbourne

Dracula's: The Resurrection Tour

11/06/2022

Southbank , VIC

The Palms at Crown Melbourne

Dracula's: The Resurrection Tour

12/06/2022

Southbank , VIC

The Palms at Crown Melbourne

Dracula's: The Resurrection Tour

22/06/2022

Sandy Bay, TAS

Wrest Point

Dracula's: The Resurrection Tour

23/06/2022

Sandy Bay, TAS

Wrest Point

Dracula's: The Resurrection Tour

24/06/2022

Sandy Bay, TAS

Wrest Point

Dracula's: The Resurrection Tour

25/06/2022

Sandy Bay, TAS

Wrest Point

Dracula's: The Resurrection Tour

25/06/2022

Sandy Bay, TAS

Wrest Point

Dracula's: The Resurrection Tour
About
DRACULA'S: THE RESURRECTION TOUR RETURNS TO THE PALMS AT CROWN
Rising from the grave, and hitting the road, Dracula's: The Resurrection Tour smashes years of Dracula's brand of punchy variety into one blood-buster show delivering fan favourites and most requested acts, live rock music, sultry burlesque, jaw to the floor costumes and razor edge comedy.
Dracula's was born in a dark, dingy Melbourne laneway in 1980, and four decades later has sold over five million tickets, embracing a cult following that spans generations.
Now, for the first time ever, Drac's hits the road with some of the best acts from the Dracula's vault, splashed in blood and covered in glitter!
DRACULA'S IS AN MA15+ CABARET FEATURING ADULT THEMES, PARTIAL NUDITY AND COARSE LANGUAGE. PARENTAL DISCRETION IS ADVISED.
News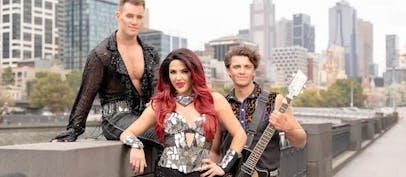 Dracula's Resurrection: From the castle to the stage
Dracula's: The Resurrection Tour will transform The Palms at Crown Melbourne from Friday 3 June 2022