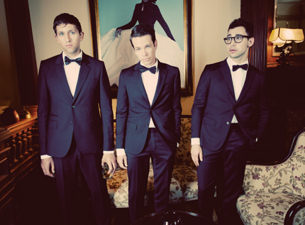 Alternative Rock
Fun. Tickets
Events
We're sorry, but we couldn't find any events
About
Future Entertainment is very pleased to announce that 6 times Grammy award nominated wunderkinds Fun. will play 2 exclusive sideshow dates whilst on tour in Australia for Future Music Festival in March 2013.

Fun. is without a doubt the name on everybody's lips at the moment. The chartbusting New York indie-rock trio recently cemented their place in music history when they were nominated for no less than 6 Grammy awards including the coveted nod for 'Best Song' for their smash hit single 'We Are Young' feat Janelle Monáe. The smash hit US single was also a number hit both here in Australia and in the UK.

Actually, Fun. have been making history quite a bit this year…In April, Billboard.com announced that Fun's 'We Are Young' also made Digital Sales history – As the song was at the No. 1 spot on the Billboard Hot 100 for a sixth consecutive week, it became the first, and at this time only, song that has ever gained 300,000+ downloads for seven weeks straight!

Their success story has been mirrored across the globe with their sophomore album 'Some Nights' (out now through Warner) having reached platinum status here in Australia; 'We Are Young' has clocked up over 315,000 Australian sales to date and also reached the #1 spot both here and also in the UK.  'We Are Young' was also the most played track at Australian radio in 2012.

After spending the last year touring the planet and quite literally playing sold-out shows and festivals the world over, Fun. are set to hit our shores in March with their highly anticipated Australian live debut.