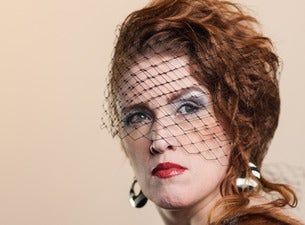 Comedy
Geraldine Quinn Tickets
Events
We're sorry, but we couldn't find any events
About
Geraldine Quinn - Fox Poncing
Fox: red-haired omnivorous species introduced to Australia and widely considered a pest. Adept at getting into and out of sticky situations.
Poncing: magnificent, sparkling self-assured pomp and strut, oftentimes onstage. Reclaimed pejorative.
Bowie is dead. And becoming a songwriter increasingly seems a crap career choice. But Quinn (The Weekly, Spicks & Specks, RocKwiz, Upper Middle Bogan) is no quitter. When your hero releases an album two days before carking it, you don't take breaks.
'Fox Poncing' bends genres, twists musical and gender stereotypes and asks some hard questions about Australia's cultural cringe along the way. But most of all it is a suite of new songs from an award-winning cabaret artist who has a frankly baffling amount of bespoke sequinned jumpsuits in her wardrobe.
Featuring Mark Jones (keyboards), Sonja Horbelt (drums) and Tristan Courtney (bass).
WINNER – Best Cabaret – NZ Fringe 2015
WINNER – Best Cabaret Artiste – Green Room Awards 2014
WINNER – Golden GIbbo Award – Melbourne International Comedy Festival 2011
"Why isn't Geraldine Quinn a superstar? She should be." The Age (2016)
Geraldine Quinn  has been nominated for almost 30 awards in the course of a decade-long career that spans Australia, New Zealand and Edinburgh. 
Cast:  With Tristan Courtney, Sonja Horbelt and Mark Jones
Geraldine Quinn - Sunglasses at Night
The 1980s wasn't all parties and side-ponytails. It was Challenger. Chernobyl. The Berlin Wall. And the best pomp in pop music history.
Gorge on 80s decadence as Quinn (Spicks & Specks) and pianist Cameron Thomas lead a crash course in apocalyptic 80s - inviting you to sing along to pretentious hits of the era.
Grab your shades. Pop your collar, You DO like Mondays; tell me why.
SOLD OUT VIC & WA