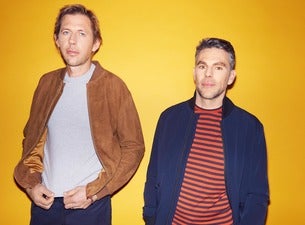 Dance/Electronic
Groove Armada Tickets
Events
18/11/22

Brisbane, QLD

The Fortitude Music Hall

Groove Armada GA25 Tour

20/11/22

West Perth, WA

Kings Park

Groove Armada GA25 Tour
International Events
3 Events
24/11/22

Masterton, NZ, New Zealand

Queen Elizabeth Park

Groove Armada

25/11/22

Napier, NZ, New Zealand

Church Road Winery

Groove Armada

27/11/22

Wellington, NZ, New Zealand

TSB Arena

Groove Armada Live - Wellington
About
Since debuting in 1997, Groove Armada have proven to be one of the most influential forces in dance music. They've proved that it's possible to bravely explore a multitude of sounds while achieving critical and commercial success.  It's a trait that apparent within a selection of their best loved songs. From the dancehall dub of 'Superstylin'' to the crossover pop of 'Song 4 Mutya (Out of Control)' and from the dancefloor-igniting 'I See You Baby' to the woozy sunset vibes of 'At The River', Groove Armada have consistently and uncompromisingly followed their own vision.
What the duo - Tom Findlay and Andy Cato - have achieved must've seemed unthinkable when they first met at university back in the nineties: three UK Top 10 albums; three Grammy nominations; a BRIT nomination; and a succession of hit singles that are still being discovered by new fans to this day. Despite having formed a quarter-of-a-century before streaming exploded, they still command the attention of almost two million monthly listeners at Spotify. They've also collaborated with or remixed countless high profile artists, notably Madonna, Paul Simon, Fatboy Slim, Calvin Harris, Neneh Cherry and Bryan Ferry.
And that's all before you consider their energised, life-affirming live show. In an era in which dance acts normally blended synths and mixing with striking visuals, Groove Armada instead focused on making every element of the sound as live as possible. It paid off in style with unforgettable scenes at Glastonbury, a five-night run at Brixton Academy (accompanied by Tom's hero Richie Havens) and shows everywhere from Moscow to Sydney. In 2019 alone, highlights including filling London's Old Royal Naval College and headlining festivals such as Wilderness, Beat-Herder and Boomtown.
The duo first gained traction on the underground by hosting their eclectic party Captain Sensual at the Helm of the Groove Armada. That connection was cemented when Tom would work on beats in Andy's makeshift studio in the backstreets of Clapham. But when the duo spent a week together writing in a cottage in the Yorkshire Dales, they returned with what would become their debut album, 'Northern Star'. It featured 'At The River', a song which fate seemed to play a part in creating. They discovered its insistent Patti Page sample on a CD they grabbed from a bargain bin in the village shop: a stroll to pick-up beer and waffles that inadvertently guided them towards their future.
What followed was what Tom describes as "a continuous state of mayhem." Their second album, 1999's 'Vertigo', sold a million copies with the help of the reissued 'At The River' and the Manumission-inspired strut of 'I See You Baby'. That chaos became their day-to-day reality. Featuring the signature classics 'Superstylin'' and 'My Friend', the 2001 album 'Goodbye Country (Hello Nightclub)' became their highest charting UK album and made them stars down under. 2002's 'Lovebox' inspired their launch of London's world-renowned festival, and 'Soundboy Rock' took them back to the upper reaches of the single and album charts in 2007.
The Grammy-nominated'Black Light' and 'White Light' followed in 2010, while the duo continued to push boundaries with the sprawling album/mixtape/remix package 'Little Black Book' in 2015.
Since then, however, there's been little in the way of new releases. 2019's 'Twenty One' boxset delivered an essential package for hardcore fans and a primer for newcomers. What's more it featured new tracks which showed that they've lost none of their genre-splicing ingenuity.
But as 2019 drifted a close, Groove Armada used social media to confirm that they'll rise again. They promised to "say hello to a new chapter in 2020, which could be the biggest one yet" as they prepare to release their eighth studio album. Given their storied history it's a lot to live up to, but one you wouldn't bet against them achieving.
"Among all the stresses and strains, the pure pleasure of kicking around with Tom and the fact that we're still each other's best mate hasn't changed," concludes Andy. "I think after over twenty years that tells its own story."