Museums and Exhibits
Happy Place Tickets
Events
Southbank, VIC

Crown Melbourne Metropol Precinct

Happy Place

Southbank, VIC

Crown Melbourne Metropol Precinct

Happy Place

Southbank, VIC

Crown Melbourne Metropol Precinct

Happy Place

Southbank, VIC

Crown Melbourne Metropol Precinct

Happy Place

Southbank, VIC

Crown Melbourne Metropol Precinct

Happy Place

Southbank, VIC

Crown Melbourne Metropol Precinct

Happy Place

Southbank, VIC

Crown Melbourne Metropol Precinct

Happy Place

Southbank, VIC

Crown Melbourne Metropol Precinct

Happy Place

Southbank, VIC

Crown Melbourne Metropol Precinct

Happy Place

Southbank, VIC

Crown Melbourne Metropol Precinct

Happy Place

Southbank, VIC

Crown Melbourne Metropol Precinct

Happy Place

Southbank, VIC

Crown Melbourne Metropol Precinct

Happy Place

Southbank, VIC

Crown Melbourne Metropol Precinct

Happy Place

Southbank, VIC

Crown Melbourne Metropol Precinct

Happy Place

Southbank, VIC

Crown Melbourne Metropol Precinct

Happy Place

Southbank, VIC

Crown Melbourne Metropol Precinct

Happy Place

Southbank, VIC

Crown Melbourne Metropol Precinct

Happy Place

Southbank, VIC

Crown Melbourne Metropol Precinct

Happy Place

Southbank, VIC

Crown Melbourne Metropol Precinct

Happy Place

Southbank, VIC

Crown Melbourne Metropol Precinct

Happy Place
About
It's time to GET YOUR HAPPY BACK when the pop-up phenomenon HAPPY PLACE– 'The World's Most Instagrammable Exhibit' – opens its dynamic doors in Melbourne on Thursday December 2 at Crown Melbourne.

Featuring larger-than-life, unbelievable and exceptionally playful installations and multi-sensory immersive rooms, you can get snap-happy in the world's largest indoor Confetti Dome, the famed Rubber Ducky Bathtub and the wildly popular Cookie Room scented with the aroma of freshly baked chocolate chip cookies, to name just a few of the photo-friendly spaces.

HAPPY PLACE is guaranteed to put a smile on your face.
News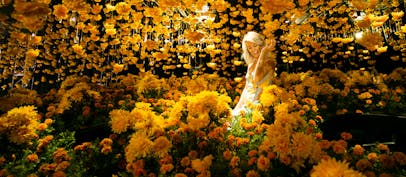 Happy Place announced!
On a mission to spread happiness around the world, the innovative experience has helped more than one million people "find their happy", and now it's Melbourne's turn.
FAQS
It is encouraged! DSLR cameras are allowed in HAPPY PLACE. Please note that tripods and selfie sticks are not allowed. Our staff is happy to assist you in taking pictures throughout the exhibit. If you are a member of the press, please email info@happyplace.melbourne to make prior arrangements.

Approximately 45 minutes.

We are excited to be in a position to bring HAPPY PLACE to Melbourne– but the world has changed and we are committed to maintaining the standards stipulated by the Victorian Government to ensure we are COVID Safe. Below are the measures we have employed to do so.

HAPPY PLACE will abide by the same Covid-Safe guidelines as Crown Melbourne – please see here.

At the time of opening (2 December 2021) masks are not required inside public spaces. If the public health orders change, this information may be updated and it may be a requirement for masks to be worn. Please check the conditions of entry at the entrance.

Please don't visit if you feel unwell, have experienced symptoms of COVID-19 including a fever and sore throat in the last 14 days, or have returned from overseas in the last 14 days.

Use hand-sanitiser provided throughout the space

Cough and sneeze into your elbow or a tissue, and put the tissue in a bin (located throughout the venue)

We have introduced enhanced daily cleaning regimes, including sanitisation of frequently used spaces with disinfectant

Deep cleaning is conducted regularly

HAPPY PLACE is more than large enough to accommodate guests (and staff) safely and hygienically within the current public health orders. However, we know that things change quickly and we are prepared (and staff are trained) for a fast turn-around to effectively manage the space under changing public health order guidelines. We manage the total numbers of people within the space with a scanning system at the entry door and conduct regular counts of the space as a further safety measure

We encourage groups of guests (family and friends) to enter together and to stay with their groups as much as possible

We have signage and decals throughout the space to remind guests of the current physical distancing guidelines as required

During your visit, you might be asked to queue, wait or come back to an area later if necessary. We thank you in advance for your co-operation and patience.

Unfortunately is is NOT possible to bring prams into HAPPY PLACE due to the impact on safety of other guests. Pram parking is available at the entrance – staff will guide you through the parking process as required.