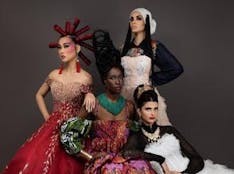 Fashion
Kaleidoscope World Of Fashion Tickets
Sorry... there are currently no upcoming events.
About
Join us for a captivating experience at the annual "Kaleidoscope World of Fashion" (KWF) event, where we proudly present "MotherLand."
🌍 Theme: MotherLand – A Tribute to Ancestral Roots In 2023, KWF is delving deep into the theme of "MotherLand." We're celebrating the profound connection to our roots and the rich histories of our ancestors. Prepare to be enchanted by a fusion of styles, traditions, and narratives that pay homage to the lands that have shaped us.
What to Expect:
🌟 Breathtaking Runway: Witness a fusion of cultures and the innovation of design as models grace the runway with their collections.
🎭 Captivating Performances: Be mesmerized by a diverse range of contemporary performing arts that will touch your heart and elevate your spirit.
🌏 Cultural Celebrations: Join us in celebrating the unique traditions, colors, and flavors of different cultures. Walk together on the red carpet and experience the diversity of MotherLand.
🎩 VIP Treatment: As our distinguished guest, you'll enjoy VIP privileges, an exclusive gift bag, front-row seating, VIP area access, and delectable refreshments. It's an evening designed to make you feel special.
🤝 Networking Opportunities: Forge connections with fellow influencers, fashion icons, and industry trailblazers, potentially leading to future collaborations.
"Kaleidoscope World of Fashion" is your gateway to the MotherLand and the world's cultures through the art of fashion. Join us on Tuesday, November 28th, 2023, at the iconic HBF Stadium in Mount Claremont. Get ready to be swept away on a journey that transcends time and borders. We can't wait to share this adventure with you! Mark your calendar and join us for a night that celebrates our diverse heritage and pays tribute to our ancestral roots.