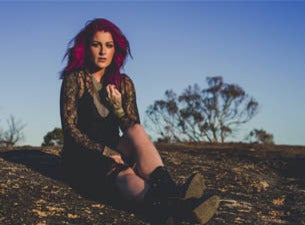 Rock and Pop
Karise Eden Tickets
Sorry... there are currently no upcoming events.
About
Karise Eden's voice can move a nation. She shot to fame at the age of 19 with a viral audition video that now has over 36 million views on YouTube which then cultivated her debut album to break sales and chart history.
Growing up on the Central Coast of NSW Australia, Karise began singing blues and rock from an early age. She started playing guitar at thirteen and also picked up the double bass.
Her debut album My Journey shot straight to #1 on the national ARIA Chart, was certified double platinum and went on to become the biggest selling album by an Australian artist in 2012. In New Zealand the album debuted at #3 and was certified gold. Karise made ARIA Chart history in the same year when she took out the top three spots on the singles chart with #1 Stay With Me Baby, #2 'Hallelujah' and #3 'I Was Your Girl'; with her single 'You Won't Let Me' at #5. Karise is the first person to do this in Australia since The Beatles had the Top 6 to themselves back in 1964.
Karise's second album Things I've Done charted at #6 on the ARIA Chart, achieved gold sales status and was followed up by a sold out shows around the country.
Karise's influences vary from blues through to bluesgrass, rock and soul: Janis Joplin, Jimi Hendrix, Guns 'n' Roses, Doc Watson, Jan Baez, Deep Purple, Etta James, Robert Cray, Joss Stone. Karise might sing a Janis Joplin song in a powerful husky voice followed by a beautiful Joan Baez song the next but her songwriting is always emotionally driven original material.
In 2018, Karise Eden is set to release her third album in late November starting with the first single 'Temporary Lovers'. We look forward to touring the country in 2019 to share one of the nation's most treasured voices.