Rock and Pop
Kate Miller-Heidke Tickets
Events
We're sorry, but we couldn't find any events
About
Award-winning singer-songwriter Kate Miller-Heidke's announces her Child In Reverse Tour taking place across September, October, November and December 2021!
Joined by her six-piece band, the tour will see Kate play regional towns and cities across Australia, performing 15 shows over four months.
"It has felt like an eternity waiting for this tour to begin. I'll be playing with my favourite musicians and we are bursting with joy and excitement at the prospect of hitting the road again after so long. We will be premiering some brand new material plus selecting some deep cuts from the back catalogue, as well as celebrating some old favourites.
Playing live has always been a pivotal part of what I do - the connection with you all and sharing loved moments in time and space. This one is going to be special."
Her fifth studio album, 2020's Top 10 ARIA Album Child In Reverse (EMI Music Australia) – hailed as her most pop album to date – spawned the singles, 'This Is Not Forever', 'Deluded', 'A Quiet Voice', 'Little Roots, Little Shoots' and 'Simpatico' feat. Mallrat.
'With a range that extends beyond the operatic and into the stratospheric, Kate Miller-Heidke may be a vocal show pony but she is certainly not of the one-trick variety. She is equal measures quirky alt-pop princess, musical theatre songwriter, empowered protest singer, classical diva and yearning folk balladeer.'
– ★★★★★ The Adelaide Advertiser
News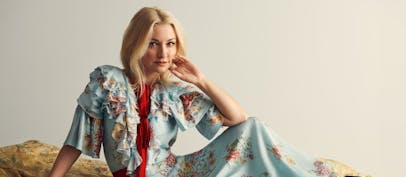 Kate Miller-Heidke announces 2021 Australian tour dates
Kate Miller-Heidke will take her six-piece band on the road from September to December this year for her Child In Reverse tour.