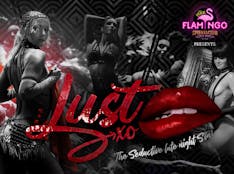 Sorry... there are currently no upcoming events.
About
Lust is packed with all the hallmarks of The Pink Flamingo's late-night entertainment.

Enjoy three acts, packed with passion, desire and seduction punctuated by two 20-minute intervals, with music from our resident DJ. This elegant, late-night experience will have your heart racing into the night.

Whether you have a front-row seat, are enjoying a birds-eye view from our mezzanine level birdcage or are celebrating like a flock-star with our VIP hostess bottle service, the girls of Lust will have you gripped until the end.

Having this much fun should be a sin.