Musicals
Magic Mike Live (Australia)
Events
Loaded 20 out of 177 events
Experience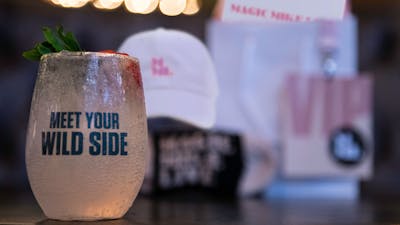 About
IT'S TIME TO FREE YOUR MAGIC, SYDNEY
YOU CAN HAVE ANYTHING THAT YOU WANT – YOU JUST HAVE TO ASK…
 Conceived and directed by Channing Tatum, Magic Mike Live is an immersive, thrilling, live dance and acrobatic spectacular based on the hit movies.
 With a cast of incredible dancers, MAGIC MIKE LIVE is equal parts empowering, exhilarating and unexpected.
 It's hot, hilarious and the good time you have been looking for.
 IT'S TIME TO HAVE SOME FUN!
Please Note: There is a 9-minute lockout period at the beginning of the show.
Location
Maps
The Arcadia Spiegeltent, located in the show ring at The Entertainment Quarter 122 Lang Road, Moore Park NSW 2010 (next to the Sydney Cricket Ground).
Get Directions

(Opens in new tab)
Getting there
Catch a light rail service to Moore Park on the new L2 Randwick Line to get within short walking distance of EQ. The Moore Park stop is located on Anzac Parade just north of Lang Road. Services run regularly between Circular Quay and Randwick via Central Chalmers Street from 5 am until 1 am on weekdays and weekends.

BUS STOP: 'ANZAC Parade, near Lang Road' FROM CIRCULAR QUAY: 373, 374, 376, 377, 392, 394, 396, 397, 399 FROM MARTIN PLACE, ST JAMES & MUSEUM: 339, 373, 374, 376, 377, 391, 392, 394, 396, 397, 399 FROM RAILWAY SQUARE: 372, 393, 395 FROM CENTRAL (EDDY AVENUE): 339, 372, 374, 376, 391, 393, 395 FROM BONDI JUNCTION, NEWTOWN & MARRICKVILLE: 355 BONDI EXPLORER: Alight at Stop 16

This is a pre-pay service and runs every 10 minutes during peak periods and every 15 minutes during off-peak times. It stops at Moore Park, just a short walk from the Entertainment Quarter, for timetables and trip planners for all Train, Ferry & Bus services please call: Transport Information hotline on 131 500 or visit www.131500.com.au.

The Entertainment Quarter is only a 10 minute drive from the CBD and 15 minutes from the Sydney International & Domestic Airport.

Parking at The Entertainment Quarter is easy with the EQ Carpark. For more information on car parking at EQ including rates, opening hours or make a booking, visithttp://www.eqmoorepark.com.au/parking/
FAQS
Magic Mike Live will tour Australia throughout 2020 and 2021. You can buy tickets via Ticketmaster.com.au.

Magic Mike Live will open in Sydney in December 2020 before touring Australia throughout 2021. Tickets are on sale now through Ticketmaster.com.au.

Prices for Magic Mike Live are subject to change but start at $75, plus booking fee. Ticket prices for Magic Mike Live vary by performance, seat location, and during peak periods such as public holidays.

Magic Mike Live will open at The Entertainment Quarter in Sydney in December 2020. Check Ticketmaster.com.au. for the current dates of performances on sale. Following its Sydney season, Magic Mike Live will open in Melbourne's Birrarung Marr from June 2021.

Sign up to Ticketmaster's mailing list to ensure you receive up-to-date information on Magic Mike Live including new performance dates and ticket releases.


Channing is the director and creator of the show and does not appear in it, but as Channing often says, he "can't wait until he's in Magic Mike shape" so he can perform in the show! He also loves to surprise audience members by turning up at shows every now and then, so do keep an eye out!

Magic Mike Live is a first-class entertainment experience based on the hit films "Magic Mike" and "Magic Mike XXL". The show features the hottest and most talented men from around the world performing in front of, behind, above and all around the audience.Magic Mike Live is a scorching 360-degree dance and acrobatic spectacular that will leave you breathless.

No.Magic Mike Live is a high-end production show in a state-of-the-art venue with some of the most talented dancers from around the world performing amazing choreography amidst over-the-top production values. It's a place where women can feel what it's like to exist in a world where their desires are heard and they are treated like goddesses…a place where they feel comfortable and proud.

Magic Mike Live guests must be at least 18 years to attend the show. Patrons will be asked to present valid photographic ID in order to be served alcohol.

Magic Mike Live Australia will recreate the mythical club in The Arcadia, the world's largest Spiegeltent, named after the ancient Greek Utopia. The Arcadia is a beautiful two storey, fully-customized, 600 seat venue where every detail has been meticulously curated by Channing and the Magic Mike Live creative team especially for the women of Australia.

ARRIVAL

Guests are encouraged to arrive at least 60 minutes prior to the start of the performance to enjoy our delicious food and beverage offerings. The show will start promptly as advertised and we recommend that you take your seat 15 minutes before the start of the show.   Please note that beverage service will also be provided in the venue throughout the performance. 

CLOAKROOM

A complimentary cloakroom is available for coats and small bags.  If you have large bags or suitcases, please arrange for them to be left elsewhere before your visit. 

SECURITY / BAG CHECK

All bags will be checked upon arrival for your safety and security.  We appreciate your patience and understanding while these checks are taking place. 

Absolutely!  A full bar with specialty cocktails and a selection of wine, prosecco and traditional cocktails will be available in The Arcadia lobby prior to the performance.  Patrons can also enjoy a mini-food hall and pay one low price to sample a variety of curated snacks and mini-meals prior to or following the show. Bottle service, champagne, cocktails and other beverages are also available throughout the show from our waitstaff.  We encourage patrons to come early and stay late to enjoy the unique indoor-outdoor atmosphere and delicious food and drink offerings. 

Magic Mike Live is 90 minutes.

Audience members are never guaranteed to be selected for the audience participation numbers, but wearing trousers certainly increases your chances of being pulled on stage for a night that you will never forget! There is no formal dress code for the show, wear whatever makes you feel comfortable, sexy and ready to have a good time!

Magic Mike Live does use strobe lighting as well as theatrical smoke throughout the performance.