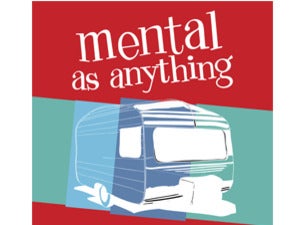 Alternative Rock
Mental As Anything Tickets
Sorry... there are currently no upcoming events.
About
Mental As Anything started off as students who put a band together to play blues, sixties pop, rockabilly, country and
increasingly their own original compositions to fill in time at art school in Sydney Australia in the mid 1970s. Initially
playing to students at parties, pubs and Uni dances they caught the attention of new independent label Regular
Records who in late q1978 sold out 1300 copies in a fortnight of the three track vinyl "Mental As Anything Plays at
Your Party" with one track: "The Nips Are Getting Bigger" on everyone's radio over Christmas.
In 1979 the song became the band's first nationwide hit on Festival Records. The LP "Get Wet" is released and what
follows is a solid stream of hit records through the 1980s and into the 1990s: "Come Around", "Just Like Romeo And
Juliet", Too Many Times", "If You Leave Me Can I Come Too?", "Spirit Got Lost", "I Didn't Mean To Be Mean", Working
For The Man"< "Live It Up", You're So Strong", "Date With Destiny", "Lets Go To Paradise", "He's Just No Good For
You", "The World Seems Difficult", "Rock 'n' Roll Music" and "Mr Natural" were ALL in the Australian Top 30.
Mental As Anything with their two original lead vocalists Martin Plaza and Greedy Smith have been touring since the
late 1970s honing the craft of performing their songs live and perfecting the art of just being Mental.
DID YOU KNOW?
At one time Mentals held the record for most Top 40 hits in Australia by Australians.
DID YOU KNOW?
The original video clip for the Mentals' "Lets Cook" was exhibited in the New York Museum of Modern Art.
DID YOU KNOW?
Elvis Costello produced "I Didn't Mean To Be Mean" for the Mentals.
DID YOU KNOW?
The Mentals painted and illustrated a tram that operated around Melbourne Australia for several years.
DID YOU KNOW?
One summer in the 1990s Mentals Martin Plaza operated a one-man weekend oyster bar at Sydney ocean swimming
baths. Doing this while singing with the band.
DID YOU KNOW?
Mentals staged three group art exhibitions between 1982 and 1999. The last two of which were opened by future
and past Australian Prime Ministers: Paul Keating and Gough Whitlam.
DID YOU KNOW?
Mental As Anything have sold more records in Germany than Australia.
DID YOU KNOW?
Mental As Anything had their first overseas hit in 1981 with "Too Many Times" reaching 19 on the Canadian charts.
DID YOU KNOW?
"Live It Up" was kept out of the number one spot in the UK by two releases of old hits being used in TV ads for jeans!