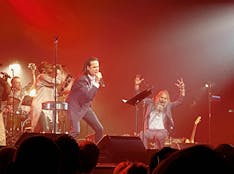 Rock and Pop
Nick Cave + Warren Ellis Tickets
Events
25/11/22

Macedon Ranges, VIC

Hanging Rock Reserve

Nick Cave + Warren Ellis

26/11/22

Macedon Ranges, VIC

Hanging Rock Reserve

Nick Cave + Warren Ellis

2/12/22

St Kilda, VIC

Palais Theatre

Nick Cave + Warren Ellis
About
Nick Cave and Warren Ellis on their Australian Carnage national tour.
Their unmissable performance at the Palais Theatre will follow on from the pairs previously announced live dates at Hanging Rock in the Victorian Macedon Ranges, which are now officially sold out. The Victorian shows are part of the ALWAYS LIVE program – a state-wide celebration of contemporary live music supported by the Victorian Government through Visit Victoria.
While Ellis is a long-term member of The Bad Seeds, and he and Cave have composed and recorded scores and worked on many other projects together, this is the first time the pair have toured Australia as a duo. With The Bad Seeds' playing their first ever live show in St Kilda in 1983, the 2 December Palais Theatre show is a fitting recognition of the bands' history. The Australian Carnage tour follows the release of Cave and Ellis' widely acclaimed CARNAGE album.