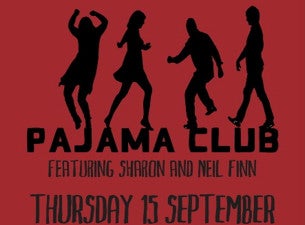 Rock and Pop
Pajama Club Tickets
Events
We're sorry, but we couldn't find any events
About
After debuting their live show here in June to sold out rooms, taking it to the USA, and UK, Pajama Club return to Australia for one intimate show in Melbourne, to celebrate the launch of their self titled debut album, in store September 9th, 2011.
Thu Sept 15 The Prince Bandroom Melbourne VIC
With Ernest Ellis & The Panamas null
Doors 8.00pm
Tell Me What You Want is the first single off Pajama Club, a heavy breathing tete-a-tete that has opened a range of vocal possibilities, various blends of breathiness and falsetto, and led Neil and Sharon Finn deeper into new territory with their song writing. You can view the clip
here
.
"The songs the Finns have written are heavily inclined toward psychedelic pop: slightly off-centre melodies, regularly wobbly atmospheres and a fondness for lashes of heavy but tuneful guitars. There's a whiff of White Album-era Beatles in songs such as Dead Leg ... and some sunshine trip a' la the Small Faces (if they had used some primitive electronic machines) in Diamonds in Her Eyes...For a baby band whose first album isn't out until September, Pajama Club are agreeably loose while never looking like falling apart."
THE SYDNEY MORNING HERALD
"There can't be too many bands on the planet that can head out on a tour of some of Australia's most renowned mid-sized rock venues before they've released an album. But where Neil Finn goes, people will flock, and tonight we see precisely why. The solid backbone of Skyring and Sharon Finn is evident on The Games We Like To Play, allowing for the gents to layer some crazy sounds over the top, while Golden Child is simply gorgeous and shows the fantastic vocal connection between both Finns. The set storms home with the ecstatic sing-along of Daylight, a sultry groover featuring Finn on drums and the fantastic Little By Little, lifted from the last 7 Worlds Collide album."
TIME OFF MAGAZINE
"Pajama Club sounded like a fully-fledged band, albeit with some multiple personality issues - in a good way. From the onset it became clear that Sharon's bass was locking everything down with her solid rock and measured approach. Neil was able to indulge in some post rock guitar textures while the couple exchanged vocal lines and intermingled harmonies.
The Pajama Club showed they are the real deal and that Sharon is a wonderful foil and balance to what we all know Neil does so well."
THE DRUM MEDIA
Pajama Club's self titled debut album will be in store independently through Lester Records September 9th 2011, you can pre order copies
here
.