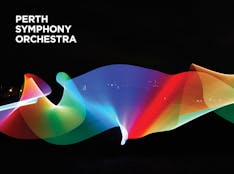 Classical
Perth Symphony Orchestra
About
Perth Symphony was founded in 2011 and is known as the orchestra that breaks the rules. With over 220 musicians regularly employed by us, PSO are creating a home for WA talent.
PSO play in places and spaces you'd never expect to find an orchestra, from sheds to warehouses, foyers to art deco cinemas and aeroplane hangars! They perform music from Mozart to Metallica, Björk to Beethoven and everything in between. Their mission is 'Music for Everyone' and by taking the orchestra out of the concert hall and into communities across WA, they are proud to have performed to over 250,000 people so far.
PSO are unique amongst orchestras and believe that their music has the ability to move and inspire people from all cultures and walks of life. PSO challenge traditions and create powerful, compelling performances that are often unexpected and always truly memorable. They have a track record of producing and creating groundbreaking concerts from the critically acclaimed 'UNPLUGGED: Nirvana Reimagined' to 'Faith & Freedom: The music of George Michael' to the recent 'STARDUST: The music of David Bowie' performed at HBF Stadium in Perth. Their concerts have consistently performed to capacity audiences in Western Australia and have received standing ovations overseas.
Bringing orchestral music to people who wouldn't ordinarily hear it, and in ways they couldn't possibly imagine is their primary focus. Perth Symphony brings music to life in a way that you don't just hear it, you can see it and feel it too!
Founded by CEO Bourby Webster, the orchestra has grown exponentially over the years.