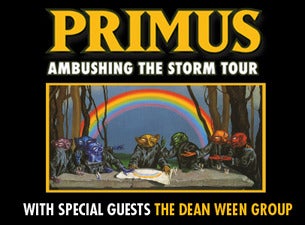 Alternative Rock
Primus Tickets
Events
We're sorry, but we couldn't find any events
About
Every now and then, you come across a band that genuinely stand alone as a real musical one-off and Primus fit that exact bill.  Having been renowned for their live performances, they are hitting the road again and have just announced they will be returning to Australia in April 2018 for a national tour.
Primus are responsible for some of the most cutting edge and original rock music of the 1990's. They were strictly an underground phenomenon that refused to be pigeonholed - merging metal, funk, alternative, punk, country, roots rock, and experimental music, along with Claypool's penchant for witty and often humorous storytelling lyrics made them a genuinely intriguing proposition.  In the years between their third and fourth albums, their cult grew rapidly, and they fully infiltrated the mainstream.
Joined by The Dean Ween Group this will be one hell-of-a rock show!