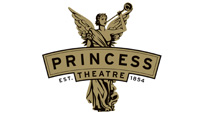 Events
0 results
Sorry... there are currently no upcoming events.
Venue Information
Directions
Princess Theatre 163 Spring Street Melbourne, Vic 3000 COVID Safe Information available at: https://marrinergroup.com.au/covid-19-message
Parking
Discounted parking rates are available to Marriner Group patrons if booked online in advance at www.bookabay.com.au. More information at https://marrinergroup.com.au/offers/discount-parking Evenings & Weekends $7, Mon-Fri Matinees $32 Closest Wilson car parks to the theatre are: Wilson Parking, Parkade, McIlwraith Place, Melbourne 3000 Wilson Parking, Park Hyatt Hotel, St Andrews Place
Public Transportation
The Princess Theatre is situated in the Melbourne CBD and is accessible by all modes of transport. TRAIN: Nearest train station is Parliament Station. TRAM: Nearest trams are 86 & 96 to Bourke Street. Free city circle tram also goes past the theatre. BUS: All buses to the city centre will leave you within walking distance of the theatre. TAXIS: Closest rank is on Spring Street
Box Office Numbers
Marriner Group Priority Line 1300 11 10 11
Box Office Hours
The Princess Theatre Box Office is open Monday-Friday, 10am-5pm and 1.5 hours before all performances.
Box Office Collection Accepted
Pre-paid tickets to Harry Potter and the Cursed Child are only available for collection from the Princess Theatre Box Office on the day of the performance. Tickets will only be given to the card holder or an authorised representative, and ID will be required for collection. VIP Red Carpet ticket holders can collect their VIP inclusions from 1 hour pre-show on the day of the event at the VIP section of main bar in the Stalls foyer, downstairs at the Princess Theatre.
Box Office Payment
Cash, Eftpos, Credit Cards, Ticketmaster Gift Cards
Accessible Seating
Wheelchair and Accessibility bookings must be booked directly with the Princess Theatre Box Office on (03) 9299 9800. Please note, there is no lift access at the Princess Theatre. Patrons with limited mobility are advised that seating in the Stalls (ground level) is the most accessible. Wheelchair access to the foyer is via the centre doors on Spring Street with a ramp, or via all doors with a shallow step. Wheelchair transfer is possible. We advise patrons to speak with the Box Office directly at time of booking. Wheelchairs, frames and crutches can be stored either at the back of Stalls or in cloakroom and returned at interval and the conclusion of performances. Companion cards are accepted for all performances at the Princess Theatre and can be booked via the Box Office. Companion card tickets can only be collected on presentation of the companion card at the Box Office from an hour prior to the performance. Assisted listening devices are available for use in all seats within the auditorium. Either headsets or neck loops can be obtained by speaking to a Front of House staff member on the day. Assistance animals are permitted at the Princess Theatre. Please call the Box Office to make arrangements. There are a limited amount of wider chairs available for patrons who may require them which can be booked directly through the Box Office. For further information please call the Marriner Group Accessibility Booking Line on 03 9299 9800 or visit https://marrinergroup.com.au/venues/princess-theatre
General Rules
Alcohol, hot drinks, cans, bottles and recording equipment cannot be brought onto the premises. For full conditions of entry go to - https://marrinergroup.com.au/conditionsofentry.pdf
Children Rules
Age Suitability Harry Potter and the Cursed Child is not recommended for children under 10 years of age. All persons entering the theatre, regardless of age, must have a ticket. Children under 4 are not permitted in the theatre due to the length of the production and impact of some scenes. Please note that children under the age of 15 require the accompaniment of an adult to be admitted to the theatre, to ensure suitable care is provided throughout the entire production.
Miscellaneous
Drinks and Snacks: Drinks and snacks are available from all bars at the Princess Theatre. View menus or pre-order your drinks and snacks at: https://menus.preoday.com/Princess-Theatre Marriner Group practices the responsible service of alcohol. Cloakroom: Our cloakroom remains closed at the current time. Please only bring handbags and satchels that are smaller than an A4 piece of paper to the theatre. Cushions: We are unable to distribute any cushions at the Princess Theatre due to current Government restrictions. Patrons are allowed to bring their own cushions for small children only.