Urzila Carlson
Platinum Tickets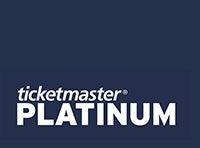 Ticketmaster Platinum offers fans in demand tickets for an event direct from the artist. Platinum Tickets enable market-based pricing (adjusting prices according to supply and demand) for live event tickets.
The goal is to give fans fair and safe access to in demand tickets, while enabling artists and other people involved in staging live events to price tickets closer to their true value.
Event Information
Event Name
Venue
Date
Urzila Carlson

Wrest Point
Sandy Bay
19:30
23 May 2019






Click Here »
Urzila Carlson

Crown Theatre
Perth
19:30
7 June 2018






Click Here »
Urzila Carlson

Sydney Opera House
Concert Hall
19:30
15 June 2019






Click Here »
*Please note:
You may be charged a per transaction handling fee and delivery fees in addition to the price of tickets. Full details are available where you purchase tickets. Offer is limited and is strictly subject to availability. Offer valid on selected performances only.