Westpac OpenAir 2020
Westpac OpenAir 2020

Located at Fleet Steps, Mrs Macquaries Point, our cinema is adjacent to the Royal Botanic Garden and set within the historic and protected Farm Cove.

Each year we bring you the most exciting mix of preview and premiere screenings as well as a few of our recently released favourites.

In recent years the event has come to be as much about the pre-film sunset hours. Typically, more than a thousand patrons gather well before nightfall to make the most of the event's harbourside bar and restaurant, creating an amazing festive atmosphere that captures the spirit of Sydney in summertime.

Then, as night falls, an unrivalled cinematic experience unfolds. Our giant screen rises from Sydney Harbour to stand three storeys tall before an eagerly awaiting audience, in front of one of the world's prettiest backdrops.

Stunning views towards the Opera House, the Harbour Bridge and the city skyline. A 2000-seat grandstand. Dolby Digital® surround sound.

A breathtaking cinematic experience.

| | |
| --- | --- |
| | Loading... |
*Please note:

You may be charged a per transaction handling fee and delivery fees in addition to the price of tickets. Full details are available where you purchase tickets. Offer is limited and is strictly subject to availability. Offer valid on selected performances only.
Offer Details:
Tickets are available via the `Find Tickets' links on this page until 4:00pm on day of screening.
Related Links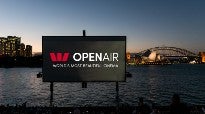 Buy Multiple Dates
Click Here