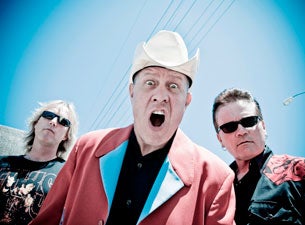 Rock and Pop
Reverend Horton Heat Tickets
Sorry... there are currently no upcoming events.
About
Principal Entertainments present the return of Texas psychobilly legends The Reverend Horton Heat, live in Australia in 2013.

The Reverend returns with his white hot band to deliver the good word from the bible of high-octane rock 'n' roll for his Australian disciples this May. Long held as the last true masters of country punk laden rockabilly, The Reverend Horton Heat have built a reputation as one of the most inspiring live bands of their generation, a fact not lost on Australian music lovers who've witnessed The Reverend tear up venues across the country making the man and his band a must see on each and every visit.

Breaking outta Dallas Texas in 1985 Jim Heath aka The Reverend Horton Heat distilled a potent brand of musical moonshine blending the finest elements of punk, country, blues and good time hill billy rock 'n' roll to come up with a brew that across the span of 9 studio albums remains as fresh and intoxicating as they day it was bottled.  Building a strong cult following during the '90s through constant touring, manic showmanship, and a wicked sense of black humour, The Reverend Horton Heat shared with his contemporaries The Cramps, the role of championing this conglomeration of arcane music styles re-imagined to a point where they became vital and fresh.

A born hell-raiser of the non-manufactured kind The Reverend brings a real sense of danger back to rock 'n' roll, stories of sex, drugs, booze, and cars all set to a breakneck soundtrack of trailer trash guitars, street-level boogie grind and hell bent rhythm and booze. Rounded out by Jimbo Wallace on the upright bass and recently returned tub thumper Scott Churilla, The Reverend Horton Heat deliver verses from the gospel of rock with a fervour unmatched and an intensity that can only be described as religious.

If you could please have this added to the event page it would be appreciated.