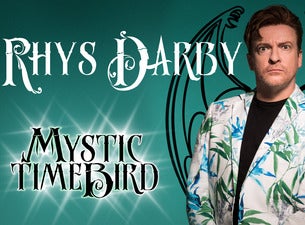 Sorry... there are currently no upcoming events.
About
ADRIAN BOHM AND JUST FOR LAUGHS SYDNEY PRESENT
RHYS DARBY 
MYSTIC PERSON BIRD TOUR
Rhys Darby, actor, stand-up comedian and amateur cryptozoologist is bringing his new show Mystic Person Bird to Australia! 
Best known as Murray from HBO's Flight of the Conchords, Darby has gone on to star in a plethora of television and films, from The X Files, to Voltron, to, movies like Yes Man, Jumanji, What we do in the Shadows, and Hunt for the Wilderpeople. A talented comic actor, his real love comes in the form of exploring the weird in the world. 
An ex-soldier in the New Zealand Army and a veteran of twenty years as a standup comedian, Darby is never far from his standup roots. His standup has been described as a sensational blend of sound effects, characterizations and askew observations. His career has taken him from his homeland of New Zealand, to the U.K. and beyond. He has performed his unique brand of humour in places as far flung as Iceland to the Falkland Islands, and in festivals from the Edinburgh Fringe Festival to Montreal's Just for Laughs. 
Rhys has three standup specials', Imagine That! (2008), It's Rhys Darby Night! (2011) and This Way to Spaceship, (2012). This Way to Spaceship was based on his debut novel of the same name, "A loosely autobiographical end of world companion" in 2012. It was number 1 in the international charts for 7 weeks. 
Darby wrote and starred in his own 8-part mockumentary comedy series for TVNZ and Netflix, Short Poppies. He is currently filming a new sitcom for US network TBS, Wrecked. He is also developing a number of other projects in the US. 
Don't miss the one and only Rhys Darby when he returns to Australia with his new show!  
www.rhysdarby.com 
www.abpresents.com.au
www.justforlaughs.sydney