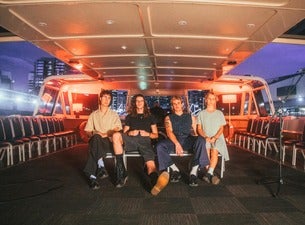 Rock and Pop
Spacey Jane Tickets
Sorry... there are currently no upcoming events.
About
SPACEY JANE ANNOUNCE FINAL ADDITIONAL AUSTRALIAN SHOWS
After selling a staggering 20,000 tickets to their forthcoming Australian tour so far, the band will now perform an additional show at Sydney's Big Top on Thursday 11 August, Brisbane's Fortitude Music Hall on Wednesday 17 August and two additional shows at The Forum on Tuesday 23 August and Friday 25 August.
They've also just shared new ballad Pulling Through and the accompanying lyric video, which offers fly on the wall insight to their enduring friendship and life on the road. "This song is for a friend who lost a loved one. I didn't really know what to say at the time except for 'I'm sorry and I hope you're ok' so putting it in a song made it easier. I think it's hard to not feel cheesy or tokenistic when you're trying to support someone through grief but I feel like, through this song, I could say it exactly how I wanted to," says frontman Caleb Harper of the song.
Over the next week, Spacey Jane will make a series of record store appearances, signing copies of their new album Here Comes Everybody in Sydney, Canberra, Adelaide and Melbourne. Appearances in Brisbane and Perth will also be coupled with an acoustic performance from the band.