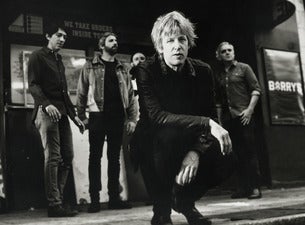 Alternative Rock
Spoon Tickets
Australia
4/12/23

Sydney, NSW

Sydney Opera House - Forecourt

The War On Drugs

5/12/23

Sydney, NSW

Sydney Opera House - Forecourt

The War On Drugs

7/12/23

Linlithgow Ave, VIC

Arts Centre Melbourne, Sidney Myer Music Bowl

The War On Drugs

9/12/23

Brisbane, QLD

Riverstage Brisbane

The War On Drugs

11/12/23

West Perth, WA

Kings Park

The War on Drugs
International
2/12/23

Auckland, NZ, NZ

Spark Arena

The War On Drugs
About
SPOON: DO YOU... AUSTRALIA 2015

Festival favourites Spoon - last here in 2010 for Groovin' the Moo and prior to that in 2008 for the national Big Day Out and Sydney Festival - return in 2015 for an all headline tour.

The band rated the Artist Of The Decade (the best-reviewed band - on average - for the 2000s) by the aggregation site Metacritic, return this time is in support of their latest and greatest album They Want My Soul - like it's predecessor, Transference, a top 4 debutant in the mainstream US charts.

Featuring the singles 'Do You' and 'Inside Out', They Want My Soul also looks set to replicate the achievements of their first five albums rating highly with the critics.

"They Want My Soul is chock full of guitar-driven greatness that makes it well worth the four-year wait and is bound to see it feature highly on end-of-year lists." X-Press Magazine (4.5 stars)

"Brilliant record, without question their best to date." Q Magazine (4 stars)

"Beautifully made, multi-layered album." The Guardian (4 stars)

For this tour the Austin-born 4-piece will be augmented by the inclusion of multi-instrumentalist Alex Fischel, previously a member of Divine Fits who toured Australia for the Laneway Festival in 2013 and who also feature Spoon frontman Britt Daniel.

"This band thrives on the audience enthusiasm, especially Daniels. Its his casual swagger, his showmanship, that makes Spoon concerts what they are, at times better than anything you can experience by just listening to the albums." Alt-Daily (Sept 2014)

'Their performance at the Hollywood Forever was definitely tailored for fans who have loved the band since their early days. With a 21-song-set that included a four-song encore, the crowd was begging for more as Spoon left the stage. This show just might have been Spoon's best performance ever.' GrimyGods.com (August 2014)

Don't miss the long awaited return of Spoon, this February. Tickets for all shows on sale Tuesday 21st October.

They Want My Soul - out now via Spunk.