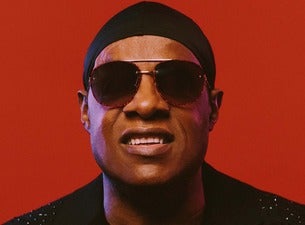 Rock and Pop
Stevie Wonder Tickets
Sorry... there are currently no upcoming events.
About
STEVIE WONDER
To date Stevie has received 25 Grammy Awards from the Recording Academy, the prestigious Grammy Lifetime Achievement Award, an Academy Award and a Golden Globe for the song "I Just Called To Say I Love You" from the film "The Woman In Red." He has sold over 100 million records worldwide, and has earned 49 Top 40 singles and 32 #1 singles over the course of his career.
Stevie Wonder was signed to Motown Records at the age of 11 and earned his first #1 hit with "Fingertips, Part II," at 13. In the '70s he released his first #1 album, "Talking Book" which included the blockbuster #1 singles, "Superstition" and "You Are the Sunshine Of My Life." When Stevie was inducted into the Rock 'n' Roll Hall of Fame in 1989 he was universally acknowledged as one of the most influential musicians in the world.
From Little Stevie Wonder to adult superstar, Stevie is beloved for his monumental talent, his generosity of spirit, his compassion for humanity and his desire to challenge injustice. His efforts to make Martin Luther King Day a national holiday was realized in 1983. His involvement to end apartheid in South Africa is legendary and his participation in the massive 1985 "We Are The World" fund-raiser for hunger in Africa is a music industry milestone.
His accomplishments include his participation in the groundbreaking international multi-network charity special for victims of New York's World Trade Center, his 2009 performance at the Lincoln Memorial Celebration in honor of the Inauguration of President Barack Obama, and being named the recipient of the Library of Congress Gershwin Prize for Popular Song. In 2009 U.N. Secretary-General Ban Ki-moon also designated Stevie Wonder as a United Nations Messenger of Peace, with a focus on persons with disabilities.
In 2010 Stevie participated in the multi-network "Hope For Haiti" telethon, and was also named a Commander in France's most prestigious National Order of Arts and Letters. This year Stevie Wonder will headline the Opening Ceremonies of the Special Olympics World Summer Games to be held in Athens, Greece, where over 7,500 Special Olympians from 185 nations will compete in the country where the Olympic movement was conceived.