Festivals
Strings Attached
Events
The Fortitude Music Hall - Brisbane, QLD

Strings Attached featuring THE SMITH STREET BAND

Find tickets

The Fortitude Music Hall - Brisbane, QLD

Strings Attached featuring THE SMITH STREET BAND

Find tickets
About
Australia's best and brightest artists are teaming up with the Brisbane Symphony Orchestra as part of the brand new concert series Strings Attached.
The Fortitude Music Hall & Brisbane Symphony Orchestra (BSO) are excited to reveal the series' first two performances with contemporary acts, Vera Blue and The Smith Street Band for Strings Attached.
Kicking off the first show is lyrical singer-songwriter and ARIA-nominated artist Vera Blue, known for her ethereal stage presence and soaring vocals. Playing on Friday 26 March, the set will combine Vera's folk-tinged moody electronica with traditional string accompaniment from the BSO, and The Fortitude Music Hall's grand acoustics.
The Smith Street Band will also play with BSO, on Saturday 22 May. Starting their 2021 returning to the stage after their fifth studio album 'Don't Waste Your Anger' debuted at #1 on the ARIA Album Charts. The Melbourne band will bring to the stage their high energy, rhythmic guitars and trademark vocals, fusing string orchestra with contemporary rock, to create a unique musical experience.
News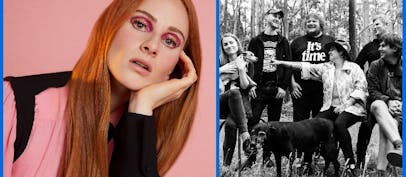 Strings Attached reveal first two acts in new concert series
Vera Blue and The Smith Street Band to join Brisbane Symphony Orchestra live