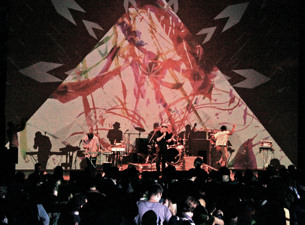 Alternative Rock
Sugar Mountain Festival Tickets
Events
We're sorry, but we couldn't find any events
About
"A place where a certain aesthetic seriousness and artistic autonomy can exist."
The Vine Sugar Mountain, Melbourne's boutique music and arts festival, will return to take over the Melbourne CBD on Saturday 19 January 2013 with the main event taking place at the Forum Melbourne. The Festival will also utilise ACMI, Rooftop Bar, Polyester Records and Melbourne Central to showcase an impressive array of local and international creative talent. Conveniently placed in the heart of Melbourne's city centre, Sugar Mountain celebrates creativity across multiple platforms, presenting engaging performances in intriguing spaces.
Curated by artist and festival creative director Pete Keen, Sugar Mountain's visual arts line-up will feature an array of truly talented local art makers across platforms including installation art, new media, digital sculptures, cinemateques and audience interactive events. Stay tuned for the visual arts program announcement in October 2012.
Curated by To and Fro Family, Two Bright Lakes and Wing & Gill, Sugar Mountain's music and sound program is an inspired selection of local and international acts. We are pleased to announce that the following musicians will be performing at the Sugar Mountain Festival at the Forum Melbourne on Saturday 19 January 2013:
It wasn't by design that the South Bronx-based group ESG affected post-punk, no wave, hip-hop, and house music. The four teenage Scroggins sisters formed in the late 1970s basing their sound on a mutual love of James Brown, Motown and Latin music. The group's only aspiration was to play their music — simplistic in structure and heavy on rhythm — and sell records. ESG went on to become one of the most sampled groups of their time with everyone from TLC and The Wu-Tang Clan sampling their songs, and have influenced many artists, with groups like Beastie Boys citing them as a profound discovery. ESG's sparse, raw, percussion-led sound continues to inspire and influence new generations.
ACTION BRONSON, the breakout chef-come-rapper sensation sweeping across the hip-hop underground, developed a passion for food at a young age, around the same time as his interest in east-coast hip hop. His music and lyrical capability ooze a razor-sharp sophistication largely unseen in today's hip-hop climate. Slicing rhymes like only a fully-trained chef could, Bronson himself said "No one raps about food like I do. I rap about fine dishes, like all kinds of things that only real chefs and real foodies are going to know about." Facing comparisons to Ghostface Killah, Nas and Raekwon whilst receiving support from some of hip hop's biggest names, Action Bronson is making his Australian debut tour to perform at the 2013 Sugar Mountain Festival. Expect one of the most enigmatic rappers in the game to provide one the freshest hip hop experience.
Melbourne born, London based duo HTRK are known for their captivating and intense live performances, which have been described as being "like the first woozy head-rush of MDMA" (Mess+Noise) and have seen them share stages with Yeah Yeah Yeahs, The Horrors and Fuck Buttons. Following the release of their 2009 debut LP Marry Me Tonight, recorded with Rowland S. Howard, and their 2011 opus Work (Work, Work), HTRK have received critical acclaim the world over for their unique sound which incorporates 808 beats, evocative basslines and texture on texture. Having toured Australia only once in the past five years for their sold-out album launch tour in 2011, HTRK will return to hometown Melbourne to perform at Sugar Mountain.
In early 2012, KIRIN J CALLINAN and KRIS MOYES had a meeting of minds which spawned one of the most arresting music video clips to come out of Australia, ever. Enigmatic performer and strange fellow Kirin J Callinan and acclaimed sociopathic director Kris Moyes reunite for their collaborative live debut at Sugar Mountain. What will they do? We don't know. But we trust them.
Michigan-born, Brooklyn-based electronic artist LAUREL HALO has developed a self-contained take on electronic music, collapsing the boundaries between ambient, pop, synthetic psychedelia, dub and the techno music of her Midwest roots. Fixed stylistic territories fold in on themselves and time quickens; her music is meant for transit, body listening and loud sound-systems. Quarantine, her 2012 debut album and first release on Hyperdub Records (home to Burial, Hype Williams, and Kode 9), is an album of transporting songs and various altitude shifts, built on a rich synthesis of intuitive but exacting electronic abstraction, bass pulse and heartfelt songwriting. This is a kind of music you might not have heard before, and in 2012 that in itself is rare.
PEANUT BUTTER WOLF is Chris Manuk, influential producer and DJ and founder of Stones Throw Records. Starting out as a teenager in San Jose, California, Wolf fashioned primitive mixtapes and ran amok at the local roller rink. As a teenager, Wolf and his counterpart Charizma began recording in 1989 and within a few years the duo were signed to Hollywood Basic (Disney) alongside label mates Organized Konfusion and DJ Shadow. In 1994 Upstairs Records approached Wolf to record an instrumental LP. Thus, Peanut Butter Breaks was born; the record became the Wolf's calling card, leading to meetings and collaborations with like-minded DJs like Q-bert, Cut Chemist and Rob Swift. In 1996, Peanut Butter Wolf founded Stones Throw Records, a hugely influential hip hop label home to legendary artists including Madlib, Dam-Funk, Mayer Hawthorne, MF Doom and J Dilla.
The foundations of Brooklyn's WOODS lie in the small apartment bedroom of Jeremy Earl, who took to recording his eerily sombre acoustic songs in 2005 as little more than a humble personal outlet. After five previous albums and several EPs and singles, Woods are set to release their new album Bend Beyond this month via Woodsist / Remote Control. While the band's early recordings mixed haunting folk and distorted soundscape journeys, their new live show offers krautrock inspired fugues and Crazy Horse-style romps, infusing Earl's dirges with an off-kilter energy and a sense of looming chaos. Don't miss Woods perform their signature mix of soaked pop and psychedelic meditations at Sugar Mountain.
Sugar Mountain Festival Presented by Triple R and The Thousands Saturday 19 January 2013, the Forum Melbourne.