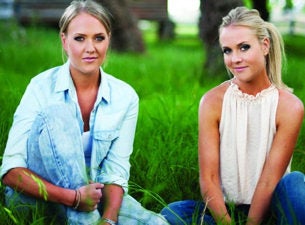 Country and Folk
Sunny Cowgirls Tickets
Events
We're sorry, but we couldn't find any events
About
A bare stage without flashing lights or backup bands, this will be the most intimate and raw Sophie and Celeste Clabburn, known better as THE SUNNY COWGIRLS have ever been before on stage.

No fancy production tricks, simply two accomplished singer songwriters presenting their celebrated works and experiences in the most stripped-back form possible with their new
UP CLOSE & PERSONAL tour throughout Australia in 2014.

As respected artists and modern day voices of Australian rural youth, this is their time to showcase their talents as previously unseen. They have conquered country music in Australia and are now delivering an acoustic performance that will provide a greater insight into their song writing and is sure to leave you focused on their heartfelt lyrics that pay tribute to their heritage and the country they love.

The country music siblings have long been a favourite in the country music world. Their honest approach, holding nothing back, has endeared them to fans and the industry. From sheep shearing through to the outback sun, they proudly sing about their lives, part country music celebrities, part tractor drivers, dog trainers and rouseabouts. You won't find an act that lives the life more-so than THE SUNNY COWGIRLS, they write what they live, and make no apologies for it.

With all the fun, excitement and memorable moments Australia has come to expect from THE SUNNY COWGIRLS, the UP CLOSE & PERSONAL tour will see Sophie and Celeste not only share their songs, but their lives, in an intimate and personal atmosphere.  They'll be featuring all of their hits from an incredible five studio albums, including: Six Pack Short, Acting Stupid, Cuttin' up B&S Style, Dancing On The Darling, Summer and Green & Gold.  In typical Sunny Cowgirls fashion, no two shows will be the same, never be boring and bound to include a few surprises!

Excited to embark on this new journey, The Sunny Cowgirls are unashamedly showcasing themselves as songwriters and quality musicians with nothing to hide behind.

"Doing the Up Close and Personal show style is something we've been talking about for a while and 2014 seemed like the right time. We know we can play to big audiences and get them going with our party songs, but this style of show will still let them party as well as enjoy the music and stories more so than before.  It's a whole new show and we're really looking forward to surprising people with some new and different songs", said Sophie.

With no one sister taking the lead, Celeste was quick to say, "It's nerve racking though, this tour will be pretty unique and we may not ever do it again, this is just Soph and I talking about the songs, the influences and pretty much presenting them as they were first written. It makes us pretty vulnerable on stage but it's the time for us to do it".

Joining the Sunny Cowgirls is Australian singer songwriter Jonny Taylor, best known for his moving original performances on the 2012 series of Australia's Got Talent.