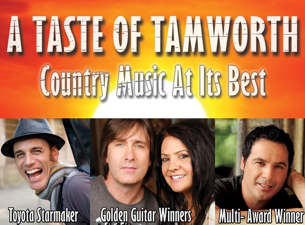 Country and Folk
Taste of Tamworth Tickets
Events
We're sorry, but we couldn't find any events
About
'A Taste Of Tamworth' Tour - Editorial

Put three Multi Award Winners together in one big concert, and you've got a Taste of Tamworth at its best. Golden Guitar Winners – Carter & Carter and Multi-Award Winner  - Paul Costa team up with the recent Star Maker Winner – Bob Corbett to give you 'A Taste Of Tamworth' you'll never forget.

Carter & Carter (Merelyn & David) 2013 Australian Independent Group/Duo of the Year continue to dominate the charts and awards and draw crowds wherever they play. Their list of awards includes a Golden Guitar, triple CMAA Independent Entertainers of theYear awards and 10 Australian Independent Country Music Awards. Their latest album 'Wonderful World'  was released to a packed house at this years Tamworth festival. One of the youngest acts to be inducted into the Tamworth 'Hands Of Fame' alongside artists like Slim Dusty and Lee Kernaghan, Carter and Carter's songs and stories continue to gain them a legion of loyal fans right across Australia. Their performances are described as honest, energetic, unforgettable and guaranteed to leave you smiling.  On this tour they will be playing tracks off their new album 'Wonderful World' and a host of their National #1 hits like 'Dance In The Rain', 'The Best Things In Life Are Free', ' Run Away' and much more.

Paul Costa had an amazing career and since the release of his 4th album Wheels & Steel opening at #2 on the ARIA charts and scoring #1 radio hits with the first two singles Tractors & Bikes and Big End Of Town.
He's performed all over Australia at major events such as The Gympie Muster, the iconic Birdsville Races, Tamworth CM Festival, The Deni Ute Muster and more! His career has also taken him internationally to Japan, New Zealand and through Europe. Another memorable highlight was touring East Timor entertaining the Australian & NZ Troops.
He was a finalist for three Golden Guitars for the 38th CMAA Country Music Awards of Australia including Male Artist along side Keith Urban, Troy Cassar-Daley, Adam Brand and James Blundell. One of the best known faces in the Country Music Industry his performances continue to draw crowds wherever he plays. 

"Unquestionably one of the finest male vocalist in country music" - SUE JARVIS - CAPITAL NEWS MAGAZINE
"He has taken it to the next level, and is the next big name in Australian Country" - BEN SORENSON - REAL COUNTRY

Bob Corbett - 4-time Golden Guitar nominee & 2012 Toyota Star Maker winner, Bob Corbett bursts out of the world of folk and country music with his unique sound described as Roo Grass. Audiences across Australia and North America have fallen in love with Bob's catchy music that unites the traditional with the contemporary. His mix of energy, story, humour and deep thought breathes new life into our expectations and offers a fresh perspective on Australian folk and alt country music. Bob has won 9 ABC Music Awards and 3 Victorian & National Country Music Awards.

Upon winning Star Maker, the Australian Country Music Industry turned it's spotlight on Bob with a curiosity seldom seen over Star Maker's 33 year history. With long standing Star Maker sponsorships from Toyota, Fender, Maton Guitars and many more organisations, Bob was provided a launchpad that shot his career into over-drive.

Each act brings their own unique form of music and personality to the stage and then team up for a spectacular finale. This show is has a respected reputation for providing a high quality taste of Australia's largest festival Tamworth – a taste that keeps people coming back for more. So come along and be part of the Tamworth experience as the artists launch into a string of their national #1 hits and some well known favourites. Three Multi- Award Winning acts coming together for one big concert doesn't happen very often. Get your tickets now for a taste of Australia's biggest festival, Tamworth, right in your own backyard.

Three Multi-Award Winners in One Big Show – A Taste of Tamworth at its Best.