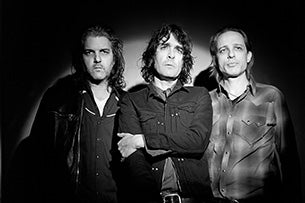 Rock and Pop
The Jon Spencer Blues Explosion Tickets
Events
We're sorry, but we couldn't find any events
About
The Jon Spencer Blues Explosion (USA)
Jon Spencer and his boys have been busting eardrums to get into your brains for almost a quarter of a century. But New York's dirtiest dealers of splintery rock'n'roll carnage are only just getting started. 
Prepare your earholes for the aural enema. Like an overflowing Manhattan sewer spilling the city's secrets onto the streets, The Jon Spencer Blues Explosion peddle the kind of filth-smeared rock'n'roll that leaves pretenders stone-cold.
Guitarist Judah Bauer's licks are black-and-bluesy while Russell Simins bangs out frenzied demons of rhythm, and all the while the inimitable figure of Mr Jon Spencer tells the truths that reveal what keeps the city that never sleeps from finally getting a good night's rest.
"the Blues Explosion's cheeky, scrappy brand of rock'n'roll is still something to cherish" Pitchfork
"Before the White Stripes, before the Black Keys, there was the Blues Explosion..." The Guardian