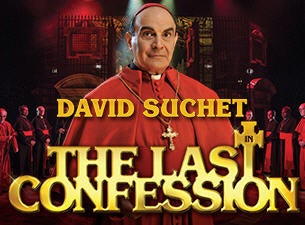 Plays
The Last Confession Tickets
Events
We're sorry, but we couldn't find any events
About
PAUL ELLIOTT, DUNCAN C WELDON & LIZA McLEAN,
TRH PRODUCTIONS LTD & KARL SYDOW PRESENT A CHICHESTER FESTIVAL THEATRE PRODUCTION
A new play by: ROGER CRANE Directed by JONATHAN CHURCH
PRESENTED IN ASSOCIATION WITH AEG OGDEN, PERTH THEATRE TRUST & QUEENSLAND PERFORMING ARTS CENTRE


David Suchet (Agatha Christie's Poirot) makes his Australian stage debut in The Last Confession.

"DAVID SUCHET IS MARVELLOUS" - DAILY EXPRESS, UK

Set in the corridors of the Vatican at the time of the sudden and controversial death of Pope John Paul I only 33 days after his election, The Last Confession is a mystery thriller of biblical proportions. 

"A THOUGHTFUL WHODUNNIT…IT'S DIVINE" - SUNDAY TELEGRAPH, UK

"FASCINATING, COMPLEX AND FAST MOVING" - EVENING STANDARD, UK

The Vatican refuse to conduct an official investigation into the death of the Pope but the politically savvy Cardinal Bellini (David Suchet) who had engineered the election of Pope John Paul I is determined to find the truth.

After playing in London, Toronto and Los Angeles, Australia will get the chance to experience what the Evening Standard (UK) called an "intelligent and provocative new work".